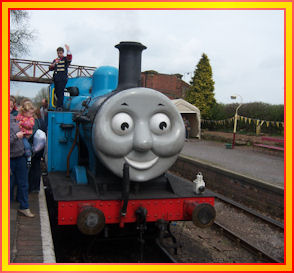 Thomas The Tank Engine and some of his friends will be paying another visit to the Battlefield Railway in Leicestershire, to take part in SiF's favourite Day Out With Thomas event. Thomas will be joined by Daisy, BoCo, Diesel and some other engine special friends as they make for a fun and exciting family day out, pulling trains and playing games at Shackerstone Station under the watchful eye of the Fat Controller and Mr Conductor!
Daisy will be on hand to run shuttle services between Shackerstone Station and Farmer McColl's farm throughout the day, whilst Thomas runs trains along the length of the railway.
Engine Races & Games

Visits to Farmer McColl's Farm with Daisy

Sing-Along-Songs being played in the Station

Colouring and Drawing fun with Activity Sheets, Colouring Bunting, Colouring Rubbings & Colouring Sheets

Lots of Thomas & Friends toys to play with in the Imagination Station

Thomas & Friends DVDs playing on the television

Spot The Engine Game

Plus, a fun trip up the line with Thomas and the other engines!

For the first time ever, Thomas and the Fat Controller will be holding a very special new event on the Battlefield Railway. Thomas will be pulling a very special train along the line to a Fireworks Display on the 15th of October, and he wants all his friends to come along and join in the fun!
However, it is likely to be a popular event, so you'd better get booking!
All inclusive tickets for the event cost £12 per person on the day, with children under 3 travelling for free.

Pre-book your tickets through TicketWeb, and you will only pay £10!

You can also have Lunch With Thomas (£12) or Tea With Thomas (£15) as part of your Day Out With Thomas!

 

Click the image to visit the Battlefield Line's website and plan your visit!