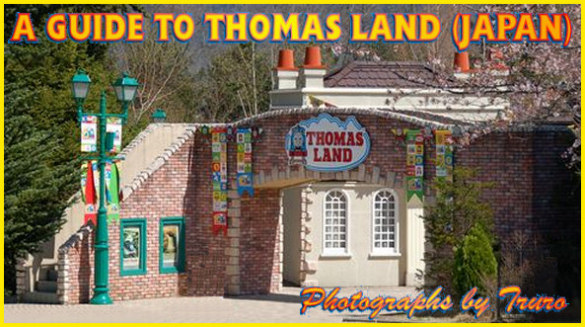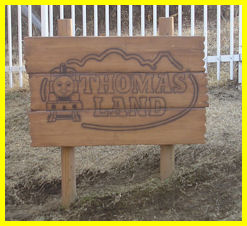 Whilst Thomas Land in Drayton Manor has become frequented by many fans since it's opening in 2008, it was not the first attraction to be built around our favourite little blue engine! The first Thomas Land in the world was opened in Japan in 1998, as part of the Fujikyu Highland Theme Park at the foot of Mt Fuji, a three hour train journey from Tokyo. Many elements of the original park were designed by Thomas' Art Director, Robert Gauld Galliers, based on scenes and episodes from Britt Allcroft / Gullane era of the series. SiF member, Truro, took a trip to Thomas Land (Japan) whilst visiting Japan in 2005, and took a tour of the park whilst there.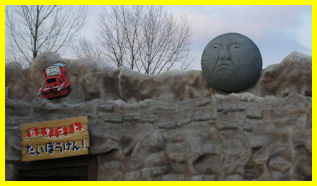 The first attraction Truro came to was The Great Gatagoto Adventure. On the outside, Thumper and the Boulder from the season 5 episode, Rusty & the Boulder, welcome passengers to ride a troublesome truck to a fun Sodor Party. Throughout the course of the ride, you can see numerous classic scenes from the TV Series, replicated by models specially constructed for Thomas Land. The Great Gatagogo Adventure culminates at Tidmouth Sheds where visitors can see Thomas, Percy, Gordon, James, Emily, Spencer and Henry waiting to greet them. Commemorative photos of the ride are available at Mr Jolly's Chocolate Factory.

You can also get your photo taken with Thomas or Percy at the monuments, of the two heroes. They even move their eyes, just like the real thing!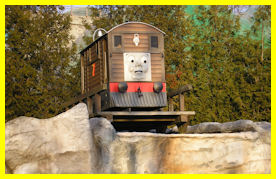 For the Wishing Falls, a scene from another Series 5 episode, Toby and the Flood, is used.
A mysterious secret waits behind the water – although if Truro knows what it is, he's been cagey on the details! From the look on Toby's face, his only wish would be to make sure he returned to his nice, safe and dry rails again as soon as possible!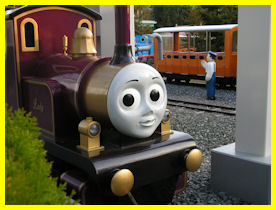 One of the main attractions to Thomas Land (Japan), is Thomas and Percy's Fun Ride, where narrow gauge steam-outline versions of Thomas, Percy or Lady operate trains travelling in a small circuit on different days, similar to the system which transports visitors around the site at Thomas Land in Drayton Manor Park. From Knapford Station, you will see friends such as James in the yard, Edward in the shed, Bertie at the level crossing, Diesel 10 preparing to destroy things with his mighty claw, Harold flying overhead, Henry being confronted by an elephant in the tunnel and Terence the tractor ploughing a field, before reaching journey's end at Elsbridge Station.
On the day Truro visited, it was Lady's turn to take the visitors around the park!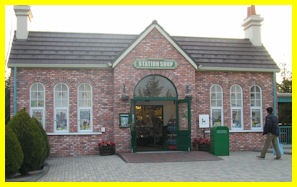 An important stop on your journey to Sodor, is the Station Shop. A great place to find some interesting Japanese Thomas merchandise, such as Japanese DVD's, Bandai toys and such. You can also try your luck with the classic Japanese toy-capsule vending machines, to get one of the newer Tomy Wind-up models, including some that weren't released in the UK or US. Truro was lucky enough to get the Henry model!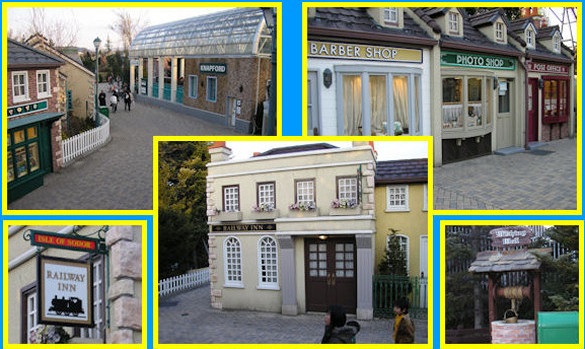 As you can see, the architect went and made the effort to get an authentic British village look, for 'The Street' around Knapford Station, creating a cleverly disguised toilet and locker area, where you can safely leave your excess baggage while exploring the park.
Down here, you can also get Photographs from the Photograph Shop and commemorative stamps from the Post Office. And if you are feeling thirsty, you can always drop into The Railway Inn!

For those among you who've dreamt about driving Thomas since childhood, dream no more! There are self-drive vehicles of Thomas, Percy and Bertie, similar to the Diesel-themed vehicles found at Drayton Manor.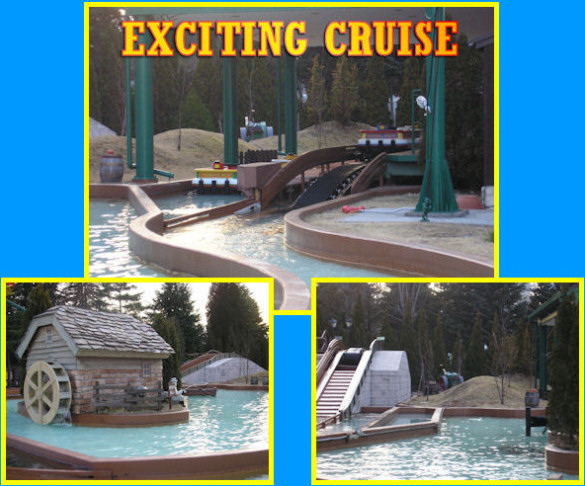 There's also a cute water ride called The Exciting Cruise that makes use of the various Sodor canal boats, with names such as 'Tidmouth Maid' and 'Bluebell Valley'.
Mrs Kyndley's Cottage can also be visited, for popcorn and soft drinks. Or if you want a nice hot meal, you can visit K's Thomas Café, where they serve food to suit all tastes.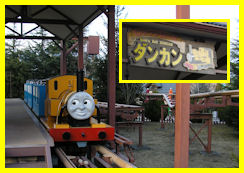 Thomas Land (Japan) also boasts its own rollercoaster for young children. Duncan's Rock 'n' Roll Rollercoaster gives the narrow gauge engines a small presence within the park, with carriages made to replicate the ones seen in the Railway Series books and TV Series, whilst allowing the little yellow engine to do what he does best by giving visitors a thrilling ride during their day out!
You can also take flight with Harold the Helicopter on his Happy Harold ride, get a lift with Cranky the Crane on the Mischievous Cranky ride, or go for a spin with your favourite engine friends on the Everybody Twist Tea-Cups ride, which takes you on a tour of the sheds.
As you can see, there's plenty to do!
And here's a slideshow with more photos taken by Truro during his visit...
Finally, below is an interactive map featuring where in Thomas Land Truro's photos were taken. Hover your mouse cursor over the numbered locations to identify the site, or click the numbers to see more details about the feature.
THOMAS LAND JAPAN MAP (circa 2005)
As you've undoubtedly noticed from the video playlists, Thomas Land Japan has changed a lot since Truro's visit in 2005! The park's expansion went on to include Diesel-10, a Bulstrode roller ride, a 3D Theatre, and even Hiro featured in an annex to K's Café! See for yourself in this

downloadable map

of Thomas Land Japan from 2011!
Our next destination is...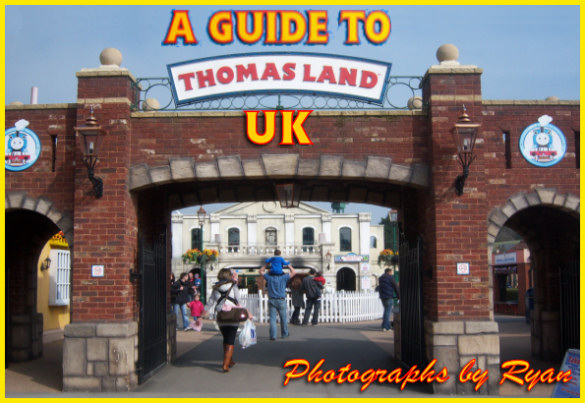 Thomas Land UK was opened in March 2008 at Drayton Manor Park in Tamworth, Staffordshire, on the site of the former 'Robinsons Land', a themed area sponsored by the soft drinks brand of the same name. It is currently Europe's first and only Thomas & Friends theme-park, and boasts a number of impressive attractions that will appeal to all visitors and fans.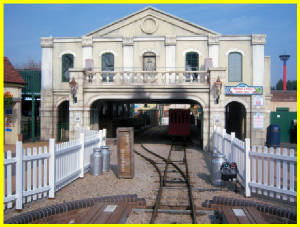 As you enter Thomas Land (UK) you will hear the sound of music coming from the balcony of Knapford Station, where the Fat Controller and his staff will most likely be singing a song to greet you and probably invite you to sing along with them.
Meanwhile, inside the station Thomas, Percy or Rosie will be busily taking passengers to and fro along their branch line to the other end of Thomas Land. The station interior and platform is attractively decorated with props of items seen in a small countryside railway station during the age of steam.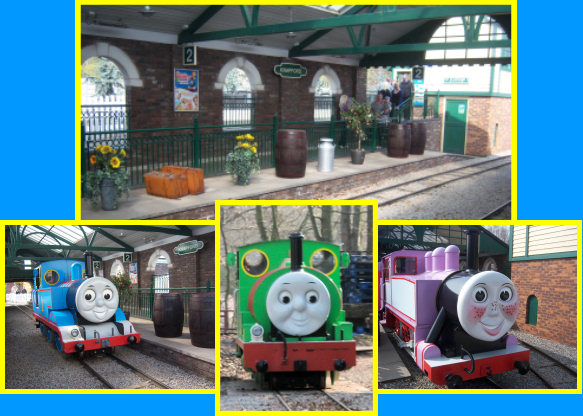 But Thomas, Percy and Rosie aren't the only engines in Thomas Land. Edward, Gordon, Henry, Toby and Rosie (again) can all be found in the Roundhouse area in the middle of the park, poking out from their respective sheds.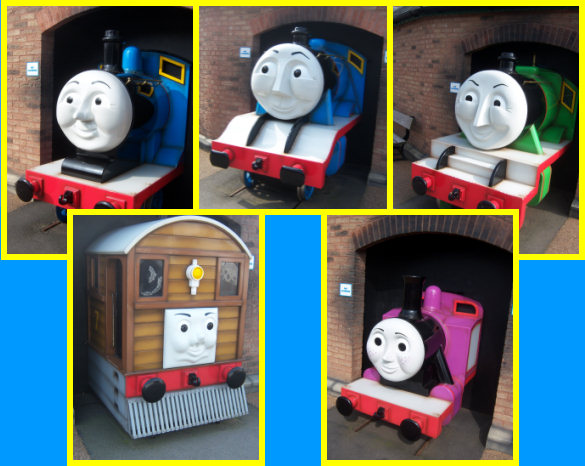 And James can be found fast asleep on the other side of the footbridge at Knapford Station behind the Signal Box!
If you're looking for thrills, Thomas Land has them. When you're comfortably strapped into your seat and harness, Cranky the Crane will happily lift you up to give you a bird's eye view of Thomas Land, and then allow you to drop and bounce back to the ground again when you visit Cranky's Drop Tower.
The Troublesome Trucks delight in mischief and causing engines to run out of control, and they will have you in a spin when you take a ride on their Troublesome Truck Coaster!
Whilst Thomas Land Japan has a gentle river-boat ride on water, Thomas Land UK has Bulstrode the Barge giving everyone a wild ride, rotating at 360 degrees as he takes you for a simulated ride on the high seas on the Rocking Bulstrode ride!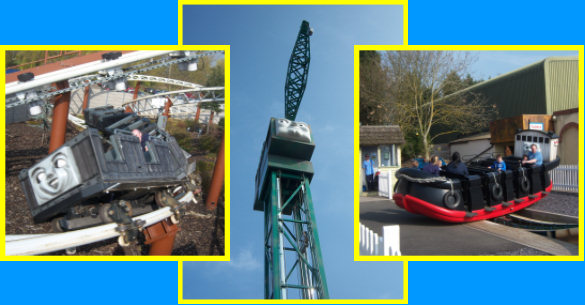 The Diesels get their own ride too – with Diesels Locomotion Mayhem, where visitors can ride on Iron Arry, Iron Bert, Rusty, Mavis, Salty and Diesel as they spin around and around in circles. From the looks of things, Diesel isn't particularly enjoying the experience!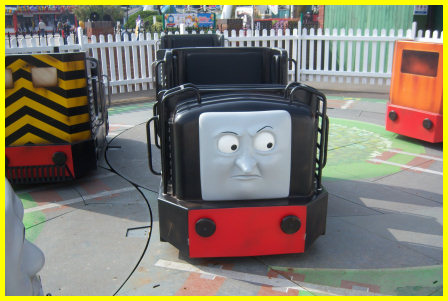 Similar to what is already in Thomas Land Japan, you can take high flying adventures with Harold's Helicopter Tours and see all over Thomas Land, and get photos with the engines in the Roundhouse below! Also, you can learn to fly in Jeremy's Flying School, next to Knapford Station. Bertie the Bus also takes to new heights in his ride – Crazy Bertie The Bus, where you can climb on board and take a crazy journey with Sodor's favourite bus.
The Narrow Gauge Engines get a presence at Thomas Land as well, with a brand new ride which was built for the park in 2011 – The Blue Mountain Engines allows you to ride on Skarloey, Rheneas, Sir Handel or Peter Sam as you go round and round in a big circle. Right next to the ride is Terrence's monument. Terrence does to be happy to be where he is at this location even though his Driving School was relocated to Farmer McColl's Farm north of the park during the autumn of 2011.

One of the attractions which was left over from the site's time as Robinsons' Land was the 'Veteran Cars', now renamed Sodor's Classic Cars, which take you on a gentle ride around a circuit and past the Thomas Land Shop!
The Thomas Land Shop is the world's largest stockist of Thomas & Friends toys, games, apparel, DVDs, books and other items related to Thomas. One criticism of the shop is the lack of Railway Series books on offer, however, the array of Wooden Railway and Take-Along toys will surely satisfy the younger generation.
But the main feature of Thomas Land UK is a ride with Thomas, Percy or Rosie to Farmer McColl's Farm, on the way you'll pass lots of waving passengers at Dryaw station and along the line, before finally reaching Tidmouth Hault, where you can visit Mrs Kyndley's Tea Rooms for some light refreshments.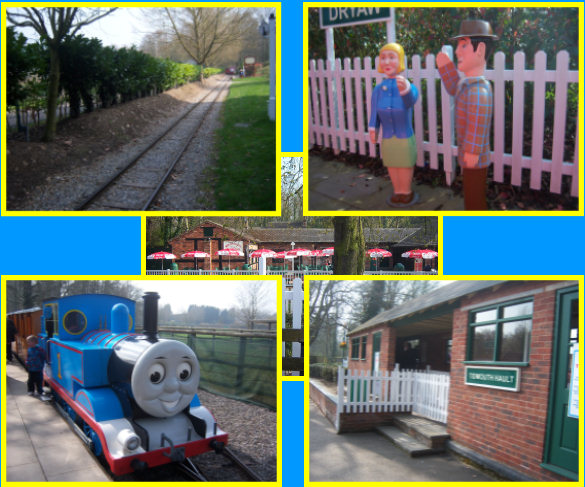 If you're a fan of the classic TV Series, the highlight of your visit to Farmer McColl's Farm is a pilgrimage to the Discover Thomas and Friends Exhibition, where a selection of model engines and buildings are on display.
Other attractions in this remote area of the Park include Terrence's Driving School and Spencer's Outdoor Play Area - Spencer being constructed from logs! There are also a selection of Farmer McColl's animals at the site, notwithstanding a flock of penned ostriches!
After you've taken in all that there is to see and perhaps had a bite to eat, it is time to take you r seat in one of the coaches for the return trip to Knapford Station!
2013 Update: Introducing...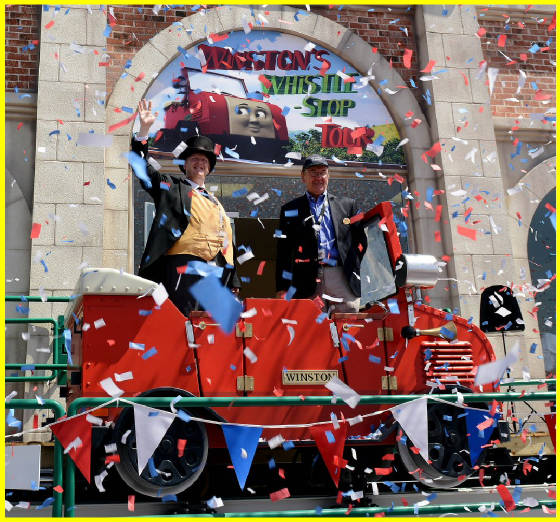 Grand Opening of Drayton Manor Thomas Land's Winston Whistle Stop ride on 19th July, 2013 with Colin Bryan, Managing Director of Drayton Manor Park with Sir Topham Hatt and Winston.

On July 19th, 2013, Drayton Manor's Thomas Land introduced a new ride to the venue: Winston's Whistle Stop. Featuring Winston the trackside inspection vehicle from Thomas and Friends, the elevated tracked ride trundles above Emily's Play Area and snakes around the Harold the Helicopter ride.
The Grand Opening for Winston's Whistle Stop was hosted by Colin Bryan, Managing Director of Drayton Manor Park with special V.I.P. guest Mark Moraghan, Thomas & Friends' new storyteller.
(Winston photos courtesy of Daniella Dangerfield, Creative Marketing Executive, Drayton Manor Park - click photos to view larger versions).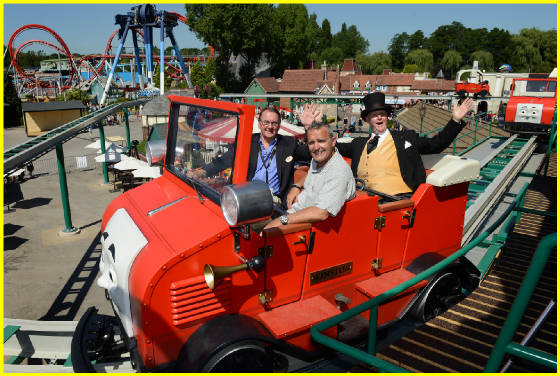 Pictured above sharing a ride on Winston; Colin Bryan, Managing Director of Drayton Manor Park (L) with special V.I.P. guest Mark Moraghan, Thomas & Friends' new storyteller (C) and Sir Topham Hatt


SiF's Interactive Map of Drayton Manor's Thomas Land (2012)
We've compiled an interactive map below featuring all of the interesting sites to be seen in Drayton's Thomas Land. Hover your mouse cursor over the numbers to quickly identify them, or click on the numbers to see more details about that location. Don't forget that you can also pan further north of the map all the way to the Farmer McColl Farm area of the park!
* With thanks to SiF's Chris for pinpointing the location of the Discover Thomas & Friends Exhibition.
SPECIAL DRAYTON MANOR PARK ANNUAL EVENT:
CHRISTMAS IN THOMAS LAND!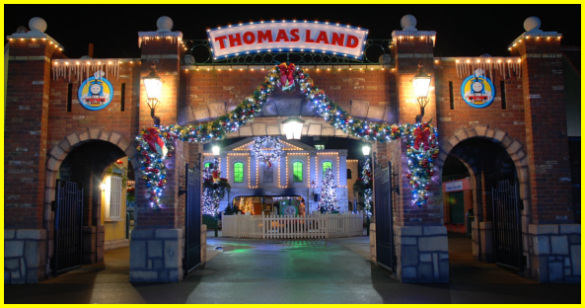 It's become an annual tradition at Draton Manor Park to host a special event to celebrate the Christmas Festive Season where Thomas Land, in particular stands out. The darkness of winter is contrasted by the myriad festive lights that tranforms this little part of the park into a truly enchanting place where your Sudrian friends await visitors with music, activities and even an occasional snowfall. Visit the

Drayton Magical Christmas website

for dates and time schedules for this special annual event.

(Photos courtesy Daniella Dangerfield, Creative Marketing Executive, Drayton Manor Park - click photos to view larger versions).
Click the banner below for additional information about Thomas Land...