It can never be said that Thomas isn't an accountable character, HiT Entertainment's accountants will tell you that much as Thomas was responsible for just under a quarter of the company's whole takings for the last year, roughly 23%, whilst Bob the Builder slumped to 15%. Thomas has proved to be a world phenomenon, particularly in it's homeland of Britain, but also across the water in the United States, where Thomas is once again becoming popular again thanks to his new half-hour format show on PBS, which is also broadcast on Digital Satelite channel, Nick Jr, in the UK.
What we will be examining here, is how Thomas's rise to fame in America was somewhat due to the help of a native accent, and how canny businesswoman, Britt Allcroft, took the characters and stories and made them both fitting and appealing to the American audiences, who embraced the British phenomenon as well.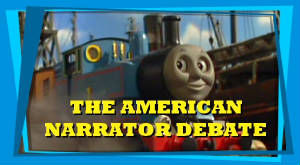 "Breaking America" is always found to be a pivotal point in every performer's career. Billy Connolly once claimed that he felt that had he not managed to get America, he would have had half of a good career, but he also recognised the difficulty in getting his name across out there. Gaining influence in new territories often involves making sacrifice and change, and even Thomas had to make these kind of changes in order to survive and adapt in his new territory. Ringo Starr was a perfect spring-board for Thomas in the USA. Beatle-mania was huge in America during the 1960s, so effectively he was a very well known character across the North Atlantic, and with his help, Thomas would be too.
But in order to make the leap to suit the American audiences, certain parts of the dialogue recorded had to be amended, as well as revising the classic titles, prime example of this would be "Thomas and Gordon" being renamed "Thomas Gets Tricked" for the American audience. Revisions within the writing had to reflect American language, hence the fact that "points" became "switches", "trucks" became "frieght cars" and in order to suit the politically correct and weight concious American public, The Fat Controller was to be known by his Sunday name of "Sir Topham Hatt" instead.
There were also parts of certain stories revised as well, such as the scene from "Trouble In The Shed" where Edward is telling the Fat Controller about the hostility he is receving from Gordon, Henry and James, claiming they said he had "black wheels" and that "tender engines don't shunt". This in America was changed to "grey wheels" instead. It made very little sense at all to viewers. The phrase's original meaning was tainted completely, it was meant to be a replacement to say that Edward was being a "black-leg" or a "scab". Another example of this would be from "Thomas and Gordon/Thomas Gets Tricked" - The original episode has this quote at the end of it:
UK: "He went home very slowly,and made sure never to be cheeky to Gordon again."
The American-ised version:
US: ''Maybe i dont have to tease Gordon to be really useful'' he thought to himself. And he puffed slowly home."
Obviously this was a means of toning down things and making them a little more acceptable for the sensitivities of the US audience, and hence it followed on strongly in the new series which was to be filmed in 1991, whereby distortions of the original stories were more commonplace.
Following the departure of Ringo Starr in the early 1990s, it was decided that North America and the other English speaking territories should be divided with their narrators. Henceforth, George Carlin was put in the frame for the American narrative of the Thomas series. Even the original narration which Ringo Starr had done was re-recorded by Carlin for the listening pleasure of the US audiences. For some, to find Carlin, a very foul mouthed and blue American comedian, narrating a children's series was a complete and utter shock. But, it was a decision that paid dividends for Britt Allcroft, as the narrator proved quite popular and the American audiences took to hearing the classic British stories in their own native accent.
Many from English speaking colonies have found it odd why America should have its own narrator. There has been outcry from certain individuals to implement the British narrator as the universal one for all English speaking countries, which has only happened on one release since Ringo Starr's day - New Friends For Thomas - in 2004. Michael Angelis was used on this release to re-narrate parts of his dialogue to use the Americanisms listed above. The narrative went down like a lead balloon and from the reviews that were received on Amazon.com, it is clear that the native accent is the prefered option on BOTH sides of the Atlantic. Here's just a few snippets from reviews on Amazon.com:
...Now for the REALLY BAD news. This is my third or fourth Thomas DVD review, and I have ripped Alec Baldwin in the past, but heaven knows I miss him now. They've gone back to a British voice. The new narrator does give everyone a distinct voice and is obviously a professional, BUT I just don't like his voice. It's naturally very low and some of his "choices" for the characters are unfortunate. His Sir Topham Hatt is a mumbling, slurring drone, and overall the narrator's pitch is so all-over-the-place that I feel a headache coming on...
New friends for Thomas is an alright Thomas tape. I did not care for the new narrator, Michael Angelis, very much because he's not very creative on the voices(Alec Baldwin sure was)and some times you cant even understand what he's saying at all.
My 4 year old Thomas addict LOVES this video and begs to watch it over and over: so, it DOESN'T MATTER that I (the adult) find it derivative of Bob the Builder, and dislike the "new" narrator (he doesn't even TRY and distinguish between the character's voices!).
Even though I really dislike the new narrator, my 3 year old loves these stories and the new characters. I disagree with other reviewers who think the new narrator gives different voices to all the characters. To me they all sound the same...boring and monotonous.
Personally, I believe that these reviews were biased on account of the fact that the sound of a British narrator wasn't popular with an American audience. Michael Brandon's narration is much more upbeat and excited than what Angelis's is, particularly in Series 8 where he appears to have descended into a state of inpenetrable boredom! But the following quote by DuncanFan of the Sodor Island Forums, sums up brilliantly the sense for an American narrator:
"Some people are actually just more comfortable with hearing accents similar to the kinds they hear on their own TV programs, or even locally. It has less to do with the fact that Americans think it is a domestically produced show, and more to do with the fact that they'd rather not be reminded in such a big way as the accents they hear."
But it has to be looked upon like this - what if the situation were reversed? The UK having to be exposed to an American narrator. It has happened before on a smaller scale - the 1998 broadcasting of the first 13 episodes of Series 3 on Nick Jr where Angelis's narration was absent for 2 months until the British narrated episodes were obtained. Personally, I found it rather unusual and slightly uncouth myself having to hear the stories I grew up with being narrated in an American accent. This wasn't because I didn't enjoy it, but more because I have grown to appreciate the American narrative that has been presented by George Carlin, Alec Baldwin and especially Michael Brandon. But deep down, I don't believe it would suit for the entire English speaking world to hear. Thomas is a British entity and should remain honoured in that sense, particularly in the homeland.
But for the success that the American narration has brought to the series, and helping to expand Thomas's life-span on television too, it hardly seems a bad idea whatsoever to implement an American narrator, particularly if the pulling power of George Carlin's voice can draw greater numbers of fans through preferance not to hear an English accent. It's more to do with easing the show into the new boundaries, the US is a super-power and therefore is found to live within its own boundaries. It's to do with people feeling comfortable watching yet another (what they think is) homegrown show and not to confuse the kids with the different UK accents that Angelis has used throughout the years. It's easier for them to make out a Southern US accent as opposed to an
Eastenders
style UK one!
Potential sales in the US are on a larger scale than what they are in the UK, therefore the best way to make a profit, is to give the US what they want!
SHINING TIME STATION
Airing on PBS in the late 1980s, Shining Time was a Railroad Station where magical things were said to happen. It's inhabitants included:
Stacy Jones (Grand-daughter of Casey) - Station Manager (Didi Cohn)

With a Manager like Stacy Jones, Shining Time can't help but shine. Her bright smile and sense of fun are welcomed by passengers, friends and family alike, although keeping them up can be a challenge with contenders like Schemer! Nevertheless, Stacy loves her job, which has been a family affair since her grandmother (Gracie Jones) first took the position years ago. She is intelligent and resourceful, and the kids (and sometimes the adults) frequently come to her for advice.

Granted, the odd hiccup is bound to occur - Stacy once went on a "NO!" spree, posting signs about what to do and not to do, all through the station. But it's obvious that she cares a great deal about Shining Time and the people who gather there...and it's obvious that they love her back!

Mr Conductors - (Ringo Starr/George Carlin)
As everyone knows, there were two Mr. Conductors. However, their personality types are essentially the same - they are both diminutive magical beings who live in the signalhouse on the station wall mural. Both are cautious about who they show themselves to, and yet love messing with the minds of Schemer and J.B. King. While their magic comes in very useful, they always advise against using it for profit or convenience - or else bad things happen, like the instance of Mr. (Carlin) Conductor's evil twin brother.

And of course, the Conductors are the ones who tell stories of Thomas and his friends on the Island of Sodor. The stories always have an underlying moral which usually fits with whatever lesson the kids (or sometimes the adults) might need to learn on any given day.

Schemer

It's enough to make anyone wonder how Schemer came to be manager of the arcade - but then again, perhaps it's best not to ask questions. A natural klutz and self-proclaimed genius, Schemer is always doing just what his name suggests - scheming up new ideas to trick people out of their nickels. He has led the kids on more than a couple of wild goose chases, but for the most part they're wise to his pranks - with the exception of his nephew, Little Schemee, who looks, acts and thinks much the same.

In spite of his desire to expand his arcade into a moneymaking empire, and despite whatever he might say in the contrary, Schemer is actually quite attached to the station. The arcade is his "castle," where he can be himself, and he is especially fond of Stacy and the kids.

Harry

Harry Cupper has been an engineer for years, and serves as Shining Time's "handyman extraordinaire." He is a proud sort, and it takes awhile for him to open up (Mr. Conductor was afraid to show himself to Harry for some time, on the grounds that he "wouldn't like him"), but when he warms to someone, there are wonderful stories of days past to be told!