How did you become involved with TATMR?
The PA Film Office was approached by the Thomas producers about filming in PA. They told the office they were looking for a local production manager, and the office recommended me.
Can you tell us about the location scouting process you were involved with before the filming began?
The production was in PA specifically for the railroad scenes. They wanted to film at the Harrisburg train station, because it fit the look they wanted, and they were expressly in Central PA because of the Strasburg Railroad, probably the best surviving example of a narrow-gauge railroad in the USA, perhaps in the world.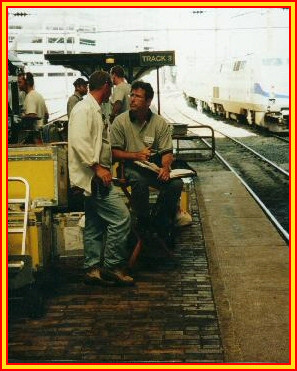 Keith on site at the Harrisburg Amtrak Station
The role of Unit Production Manager sounds very challenging. Did it rely a lot on networking with people for the production?
As I have been producing movies for more than 20 years, it was just business as usual, and easier for me because I lived locally at the time so I knew all the players. Also, I already knew the owners of the Strasburg Railroad, who are lovely people, so it was a joy to work with them. They were also instrumental in working with the PA Railroad and the Harrisburg Amtrak Station.
What would you say was the most challenging and memorable aspects of that week's filming?
The most challenging aspect, for me, was to work with the large crew that they had hired. I am used to, as a low budget producer, to working leaner and meaner, and I felt the crew was too big for what we were doing. I suggested to Phil Fehrle that we cut the crew and we did after the first day of filming. Originally, we were over a hundred people and it was comical to see all those people try to cram themselves into a skinny railway car. They were just trying to do their jobs, but it was quickly apparent that the smaller - the better.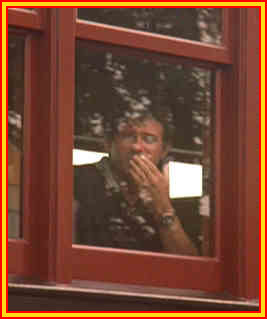 Keith's cameo in TATMR
I ended up being in the film, by the way. Britt Allcroft and I got along very well and when we needed someone to blow kisses from the train, she chose me. I felt a little ridiculous, but it was fun. I had my headset on right up to filming, then took it off and blew kisses. My family gets a big kick out of it. My sons were both extras on the movie, both in Harrisburg and Strasburg. They had a good time and were able to get their friends involved in the movie, which made them heroes at school.
I remember one morning when I showed up at the set, I like to get there early to savor the few moments when nothing has gone wrong. I was doing my customary walk around the set when one of the truck drivers came up to me to tell me that he had locked the keys to the equipment in the truck. He didn't know what to do - it was too early to call a locksmith to open the door and waiting would cost the production time and money. I went over the truck, picked up a rock and broke the window, telling him to unload the truck and get started.

One of the most challenging parts of the filming was to match the motorcycle in the movie, because it was a very specific Harley. I remember finding three different Harleys, booking them all, then releasing the ones that didn't match as well as the one we finally chose.
Out of curiosity, what time did your workday typically begin and end during the filming?
We usually started at 6 am and filmed until 8 pm and we lucked out with the weather. We had beautiful days and we were never really "chasing the sun."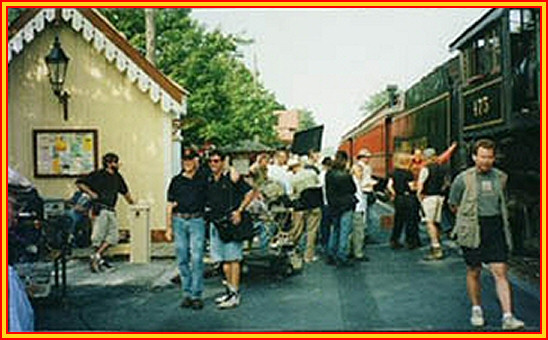 Keith with Phil Fehrle - STS facade in background - Videographer Mark Myers is on the far right.
There was a fašade portion of Shining Time Station built at the Strasburg depot. Would you be able to tell us more about its construction?
I hired a scenic artist group that I had worked with before, on my movie
SuperFights
, Cenyx, to build that fašade. It was a challenge to match the one built in the Isle of Man, but they did a great job. It was built about a month before the filming began.
Can you share your thoughts about your experience working with Phil Fehrle and Britt Allcroft?
They were wonderful to work with. Britt had a real vision for the film, uncompromising and rightly so, and Phil was a true professional. It really was a great gig.
Russell Means mentioned to me how much he enjoyed being on the footplate of #475. Was he right into his character during filming?
He was very into his character. He is a big support of American Indian rights, so I think he enjoyed the positive portrayal of his people.
Where did the actors and out-of-town crew reside during the Penn. filming?
I think they stayed in Lancaster County. It's funny that Mara had a clause in her contract that she had to stay in a hotel that had a kitchen in the room, and there was only one hotel that was more expensive than where everyone else was staying, so she stayed apart from everyone else. Then, when the shoot was over, she came up to me and asked why she wasn't staying with the rest of the cast and crew and I told her, and she said, "Oh, I would have preferred to stay with everyone else." Contracts!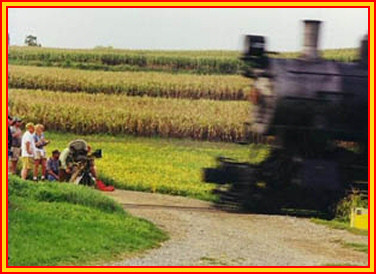 Film crew at the private level crossing - Strasburg RR
Was it a challenge coordinating filming with the Strasburg Railroad Crew?
No, they were great. They were very good about explaining the reality of shooting trains (e.g they are on tracks, they take a long time to slow down, they can't turn around, etc.) and were very accommodating. In addition, Linn Moedinger from the Strasburg Rail Road, who is now a good friend of mine, was very helpful in discussing the way things were done on a railroad. It was a great experience.
Would you recall how many extras were hired on for the Harrisburg Station scene and other aspects of the movie?
We hired hundreds of extras for the Harrisburg scene, all dressed in dull colors so that Mara would stand out. The same is true regarding Strasburg. There was a lot of good will surrounding the shoot, as Thomas is so beloved.
Were any members of the Amish community curious about the filming that was going on?
I remember standing next to the track, playing ball with some of the Amish kids who lived on the farm there, and they wanted to know what was going on. They were curious but not in any way awed by it.
Phil Ferhle, Keith Strandberg, Mike Jomes (Boomer)
Did you have the opportunity to watch the Director's Cut or the theatrical version of the film?
I saw the theatrical version but not the DC. I was happy with the film, especially the PA scenes. I thought they looked great and fit the movie.
Screenwriter, Producer, Freelance writer, Instructor are just a few of the many versatile and interesting skills that you have. When you were younger, did you have a particular goal or specific career path in mind?
I always knew I would be doing something involved with the martial arts, which was and still is my passion. That'\s what got me into writing, producing and writing.
At the end of your article for Motorcycle Tour & Cruiser, it's mentioned in passing that you were working on a motorcycle-themed screenplay at the time...
I have written a couple of motorcycle screenplays and they are currently being considered. Motorcycling is one of my true joys and I'd love to share that joy with others.
You're now an instructor at Webster University in Geneva, Switzerland. What attracted you to take up residency there?
I met a wonderful woman and we married. As a writer, I can live anywhere, and I've always wanted to live in Europe. Early in my career, I lived in Taiwan and it was a wonderful experience. I speak Chinese fluently and it's a real challenge living here and learning French. So far, I am really enjoying living here. It's a beautiful country and I am fitting in very well.
What subjects are you teaching at the University?
I teach in the media communications departments, so I try to do it all – film production, screenwriting, intro to mass communication, short films, etc. I also teach martial arts and women's self defense.
Lastly, are there any special words that you'd like to pass on to your former TATMR Lancaster County colleagues who may be reading this?
I'd just like to thank everyone for their hard work and tell them that it was a pleasure to work with them. It was a great shoot and everything went very smoothly.
---
On behalf of SiF, we'd like to thank Keith for answering our questions, and to wish him all the best with his academic, cinematic and literary projects

.

We also thank Keith for sharing a few of his personal photographs of the filming with us. If you haven't done so, you can read Keith's magazine article about filming the motorcycle stunt with PT Boomer here.