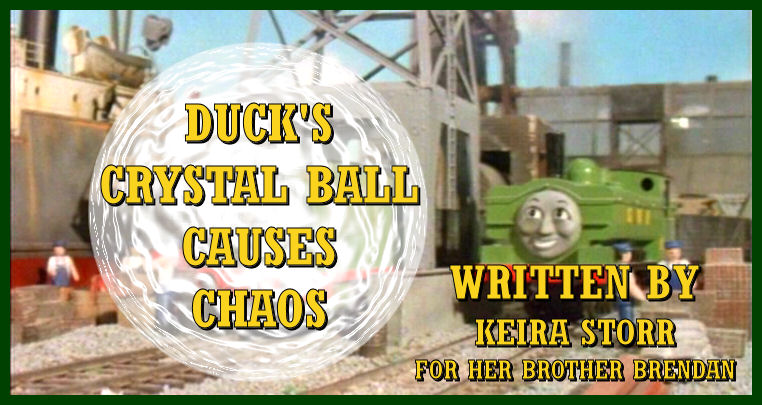 Duck was alone in the Engine shed. He was alone because all the other engines were sick of him talking about the Great Western Railway ALL THE TIME! (except Percy.. but then again, Percy is a bit of an idiot...)
Duck liked Crystal Ball gazing when he was in private. He would get his driver and fireman to apply his eye-liner and fetch his turban.
But, one day, The Fat Controller came into the shed whilst Duck was gazing avidly into his crystal ball.
''What are you doing you idle, idiotic, lazy engine?'' The Fat Controller shrieked.
''Crystal Ball Gazing, Sir.'' Duck replied stupidly.
''CRYSTAL BALL GAZING? YOUUUUU SISSY!''
''On the Great Western Railway we -''
''SILENCE! Now, as you have become so attached to this ridiculous hobby, I am going to have to sell this crystal ball on E-Bay.''
''NOOOOOOOO! This crystal ball is my ONLY FRIEND!''
''Well, tough! I need the money to buy myself that colossal chocolate cake from Thornton's Chocolate Shop.''

Duck went away to cry in a siding. Just then, Thomas puffed up.
''Hi Duck! I was wondering if you could do me a favour?''
''What is it Thomas?'' Duck sniffed
''Well, I'm off to the National Railway Museum in York tomorrow and I just wanted to check whether I was going to have a safe journey or not. Better to be safe than sorry, eh?''
"Well, you'll just have to forget that idea, won't you? The Fat Controller has stolen my crystal ball and put it on E-bay... and all for a chocolate cake!!!!! GRRRRRR..''
Thomas had already got bored by these proceedings, and chuffed off to bully Percy for a while.

As a result from The Fat Controller selling Duck's crystal ball, Thomas' journey did not go very well. It rained, he crashed into a level crossing gate, had to travel there by lorry, made a small child cry and even managed to get a parking ticket, so as you can imagine, Thomas was not a happy engine.
''GRRRR!!! I am going to murder Duck and his Great Western Railway!'' Thomas thought to himself.

Meanwhile, Duck had been thinking of ways to raise enough money to buy a new crystal ball.
In the end, he stole Fatty's hat and sent a video of him trying to do a
sit-up into You've Been Framed. (Trust us, the public loved it and Duck soon raised enough money!) As revenges go, I'm sure you'll all agree it was a pretty good one!
When Fatty heard of this deceit, he was EXTREMELY angry. (Until he realized that it wasn't the video of him sun-bathing in Lady Hatt's bikini, then he was still angry, but not as much.)

To make matters worse, Duck's driver and fireman had refused to put Duck in his turban and eye-liner...They seemed to think it was too camp, seeing as he didn't even have a crystal ball. E-bay seemed to be having a few problems, so it took two weeks for Duck's NEW AND IMPROVED CRYSTAL BALL to arrive. And by this time, it was nothing more than a pile of worthless broken glass.

TO BE CONTINUED...


.... OR MAYBE NOT...