IVOR THE ENGINE
"Ivor the Engine. Look there he is standing above the notes I'm writing with Jones the Steam"...all right you get the picture! Ivor the Engine was originally broadcast in 1959 as a black and white children's TV programme made by Oliver Postgate (Writer) and Peter Firmin (Animator) about a little green locomotive who worked on a short railway in Wales.
Ivor was a peculiar machine. He was very far removed from his Railway Series counterparts, both in account of the fact he could only communicate through his whistle and he could go anywhere he liked without the aid of his Driver, Jones the Steam to stop him or apply the brakes. Truly, Ivor had a mind of his own! Funnily enough, his lack of verbal communication did not seem to hinder him in the slightest, Jones The Steam was somehow able to understand every communication that Ivor's whistle intended to tell him and would be able to relay it to the uninitiated such as grumpy Dai Station - The Station Master and snooty Mrs Griffiths - The lady from the Antiquarian society who was to help Ivor's friend Idris the Dragon.
The original Ivor series in 1959 was a set of 6 episodes, the first of which explained how Ivor got his new pipes to play in the Choir, were made for Associated-Redifusion Ltd as black and white episodes. Later two sets of thirteen further episodes, also in black and white were also produced, which introduced the Dragons and an Elephant. The series was given a resurgance of life again in 1975 when Smallfilms acquired the rights to the series and set about remaking the original films and adding several more until they met a quota of 40 in total.
A complete collection of Ivor The Engine episodes was released on video several years ago, and I believe they are still in circulation in some video shops that may well happen to have them. An enjoyable and endearing little train!
Review by R Healy
IVOR THE ENGINE Links
Ivor's Official Homepage
- All the characters and all the info you need and want to know about Ivor, including soundbites and themes.
BOB THE BUILDER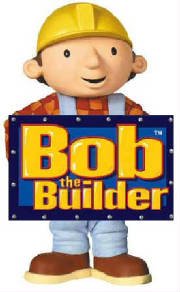 Voiced by Men Behaving Badly star Neil Morrissey, Bob and his Building Site friends have become Marvel TV Stars after appearing on the BBC almost 6 years ago. And over the years, the cast and the settings have expanded to something unbelievable, as if the entire world they live in actually existed!
Bob's team includes Scoop the Digger, Muck the Bulldozer, Dizzy the Mixer, Roly the Steamroller and Lofty the Crane, who are eager to work on any job, anywhere. Other machines include Trix the Forklift Truck, Skip the Skip Lorry and Travis the Tractor. Originally, when the show was being pitched, there were talks of not having the machines talking at all—but after trying to rewrite the episodes to meet that agreement, that idea was scrapped, much to our relief!
BOB THE BUILDER HOME PAGE:
http://www.hitentertainment.com/bobthebuilder/
Review by C Signore
JIMBO AND THE JET SET
From the same creator of PENNY CRAYON and THE FAMILY NESS, this cute series evolved around London Airport, with Jimbo as our star. This "Junior Jet" travelled around the world, from Australia to the North Pole, doing Special Jobs, as he's too small to be a Jumbo Jet Airliner. He also has his quirky little adventures with Tommy Tow truck, Amanda Baggage, Sammy Steps, Freddy Fire truck and many others as he drives the Chief Controller of London Airport round the bend!
Review by C Signore
BUDGIE THE LITLE HELICOPTER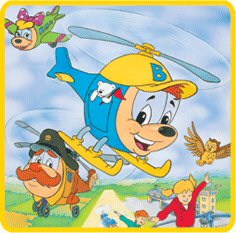 This quaint little series was set at Hairfield Airfield, where a group of aircrafts live and work. The series was about a plucky little helicopter called Budgie, who is both cheeky and adorable! Despite being mischievous towards or against the orders of Lionel, the Lynx Helicopter, he is still brave when there is an emergency and never shirks whenever there is a job. Joining him and Lionel is Pippa, a cheery Piper Warrior Plane, who reckons that planes are better than helicopters on her first day, and Chuck, the huge American Helicopter, who arrived on the same day as Pippa. Despite getting above himself at times, Chuck has a good heart and good strength (Despite his habit of calling Lionel "Captain"!)
There were also other non-aircraft characters like Backhoe and Nosey the Construction Machines, who helped to build the new Airport near Airfield—Concorde even made an appearance now and then as a result! There was also Dear old Jake the Steam Train, Smokey the Airfield Fire Engine and even a band of human characters, who also like and work at Hairfield—Ken and Mike the mechanics, Mrs Kitchen and the twins Ben and Lucy.
The series had Budgie and friends in all sorts of adventures, travelling to some of the most amazing places in the world—from France and Switzerland, to Antarctica and even the farm! Each one memorable as the next.
And in case you may not have known, all 40 episodes were based from 4 short story books written by none other than the H.R.H Sarah Ferguson, the Duchess of York—she was inspired to write about Budgie after her experience when training to be a Navy Pilot. Produced by Sleepy Kids PLC, HTV Limited and Fred Wolf Films (U.K)
Review by C Signore
BUSY BUSES
Busy Buses is about a group of eight buses who work the routes of a little town called Chumley for their manager, Mr. Spector, narrated by British comedian Brian Conley for TV4C Productions. Together, Sammy the School Bus and his other bus friends, Harry the Holiday Bus, Stephanie the Station Bus, Roger the Airport Bus, Susan and Penny the Shopping Buses, Colin the Country bus, and not forgetting Arnold the elderly Double Decker Bus, have all sorts of fun and exciting adventures, help each other out in difficult situations and most of all work together as a family.
Review by J White and C Signore
FERRY BOAT FRED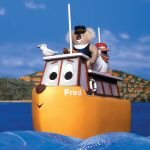 Fred is a friendly ferry who works around Sydney Harbour. He lives at Wallaby Wharf, as does his big sister, Kate. There are also two other ferries called Bill and Lou. There are many other friends too, including Pete the Pelican and Fred's captain, who always nods off!

The ferries are determined to always get on with the job, and do their very best.

The programme ran for 1 season, comprising of 13 episodes.
Review by J White
THEODORE TUGBOAT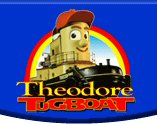 Theodore Tugboat is set in The Big Harbour which is modelled on the real location of Halifax.
Tugs, ships, a bridge, docks, and buoys are only part of the large cast that makes up the show.
The series centres around five tugboats named Theodore, Emily, Foduck, Hank, and George, all of whom work for The Dispatcher.
In each episode, there is some sort of lesson to be learned that has a moral to it.
Review by J White
TRACTOR TOM
This CGI Series was set on fictional Springhill Farm, run by Farmer Fi. Tractor Tom is bright red and always there to help everyone on the farm with his clever ideas and hard workmanship. Fi's friend, Matt, lives in a caravan not too far from Springhill, with his truck, Rev. Together with Buzz the Eager Quad-Bike and Wheezy the elderly Combine Harvester, they tackle any problem that comes in their way—from silly sheep to haywire hens!
Originally, in the first series, the machines stayed mute, apart from the engine noises they make to sound like they were speaking; but when Series 2 came round, they finally found their voices, and despite sounding like children aged from 5-15, they actually make the show more enjoyable!
THE TRACTOR TOM HOMEPAGE:
http://www.tractortom.com/SITE/tractortom.html
Review by C Signore