THOMAS AND THE ANIMATED ALL-STARS BAND SCORE A UK NO.1 SINGLE!
Sunday 28th, November 2009
Thomas The Tank Engine has scored his first UK No.1 Single at the ripe old age of 64. As part of Peter Kay's Animated All Star Band, he and a host of other much-loved childrens animated characters have raised money for BBC Children In Need through sales of a Charity Single and DVD featuring the video for the song.
RINGO STARR RETURNS TO VOICE THOMAS FOR CHILDREN IN NEED 2009
23rd of November, 2009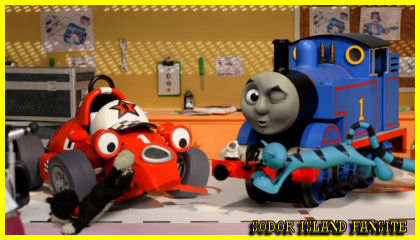 Thomas with Jess, Pilchard and Roary the Racing Car at Silverhatch Race Track
On November the 20th 2009, Big Chris of Silverhatch Race Track (Roary the Racing Car) decided to get all of his friends together to record a special song for Children In Need 2009. Among these friends included Fireman Sam and the Pontypandy Fire Crew, Bob the Builder and Scoop, Postman Pat and Jess, The Wombles, Paddington Bear, Bagpuss and of course, Thomas and the Fat Controller.
Comedian Peter Kay, who voices the character of Big Chris in Roary the Racing Car, has raised money for numerous charities in the past by selling novelty recordings. His first, a re-release of Tony Christie's Amarillo went on to become the biggest selling single of 2005, and was followed up by a collaboration with Little Britain star Matt Lucas and The Proclaimers, covering 500 Miles. This latest one has been his most ambitious, and took around 2 years to put together with numerous models and puppets being brought out of retirement for the occasion.
Despite their CGI switchover makeovers, Bob the Builder, Fireman Sam and Thomas all appeared in their traditional model forms, and Nitrogen Studios even played their part by providing CGI implements for Thomas's singing along to the medley.
The biggest surprise for fans of the little blue engine saw the return of Ringo Starr as the singing voice of Thomas after 20 years since leaving Shining Time Station. Similarly, Bernard Cribbins also returned to voice the Wombles, Ken Barrie to voice Ted Glen (Postman Pat) and Roy Skelton to provide the voices of Zippy and George from Rainbow. On a more modern and up to date note, Keith Wickham (Voice of The Fat Controller in CGI Thomas) also turned up in the credits of the music video - however, Keith would also be recording for the Koala Brothers characters.
Peter Kay's Animated All Stars Band single is available from all good online retailers, with all proceeds from sales going directly to Children In Need.
SODOR ISLAND'S YOUTUBE PUBLICITY
Monday, November the 9th, 2009
SiF is very keen to promote itself on video sharing website, YouTube, to viewers who are unaware of the presence that Thomas has among the maturer online community. The first YouTube promo video which launched in the Summer of 2009 has been very beneficial for the Forum with sign-ups seeming to rise on the back of it. This promo will be updated to reflect the numbers that we have encountered since it's premiere in due course.
We have also launched a new video on our SiForumsandFansite Channel, which has proven to be quite popular. It is the long overdue 'Movie' version of Whistle Trouble, told by Kate669 with illustrations done by Christopher Signore and live footage from the Talyllyn Railway shot by Ryan Healy and Rhys Davies.
SODOR ISLAND FANSITE GETS BACK ON TRACK
25th September, 2009
There are also further future plans in the works as well:
The idea of a Fan Art Site will be scrapped. It's dragged on too long, and I cannot find a means of making it work as well as I would like.


Tales From The Other Railway will get a Best Of site for people to sample the parody fiction.


Songs of Sodor, which I hope will provide a slight history of the songs written for the TV Series since 1991 - 1993. If anyone can help here, feel free to come forward.


The Extended Railway Series Database will hopefully launch officially at the end of this year. So far, I'm amalgamating as much information as possible from Phases 1 to 3 of The ERS Overhaul to work on it.

All pages will be updated with new banners and images to make the site look brighter and better.
BRITT SETS US STRAIGHT
Monday, 14th September 2009
Britt Allcroft has e-mailed to make clear that we have taken a response re: The Magic Railroad Director's Cut out of context, and despitethe speculation that this is unlikely, she still retains hope that she will be able to bring the full feature out as it was originally intended one day, and remains committed to finding a means of doing so, rather than a few isolated scenes.
Also, the TV Series History page has been updated, given that the information we had from the press-clippings around the time of her departure from Britt Allcroft Ltd contained innaccurate remarks.
SiF TO ATTEND THE HERO OF THE RAILS UK PREMIERE!
28th of July, 2009
HIT Entertainment has gone and made SiF an offer we can't refuse, by offering us five tickets to attend the Hero of the Rails UK Premiere in London on September the 26th. We are thrilled to be attending both the screening and after-party, which promises to be a Thomas-tastic event, and extremely grateful and overwhelmed by HIT Entertainment's generosity by inviting us to come along and join in the fun.
If anyone from HIT Entertainment is reading this - we thank you a great deal for this opportunity, and look forward to attending the UK Premiere of your first CGI feature!
ANOTHER MAGIC RAILROAD "MYTHCONCEPTION" CLEARED UP
May 27, 2009
In April this year, a claim was made that the Thomas and the Magic Railroad Director's Cut had been discovered in a Canadian Public Library. Though extemely skeptical of this "find" with all due respect to the Canadian Library System, we investigated this claim with due dilligence. What we found can be read about in our
Thomas and the Magic Railroad Revealed
page.
MAGIC RAILROAD DIRECTOR'S CUT REALITY CHECK
May 22nd, 2009 – revised Sept. 14, 2009 to remove ambiguity


We have strived and done our best to do all we can on the road to getting a Director's Cut (DC) of Thomas and the Magic Railroad released on DVD, securing the support of Britt Allcroft (Producer, Writer and Director) and Russell Means (Billy Two-Feathers) along the way, but sometimes there's just not enough gold-dust to make it all the way there.
Troublesome Truck recently came into contact with an anonymous former crewmember that was very intimate with the Director's Cut of Thomas and the Magic Railroad. This person does not wish to contribute anything to the fansite, but was kind enough to provide us with a reality check regarding the prospect seeing a public release of the Director's Cut in the immediate future.
We learned that a temp track - as the name implies, is 'temporary' and consists of selected snippets of music added to the footage to aid producers and later the composer, convey the scene's emotion to the audience. It's a real jumble of music and scores from other films and artists. It's the copyright issues associated with what's on the DC's Temp track that complicates things. It's just one of those quirks of dealing with copyright law in the film industry. It may be wishful thinking on our part that the DC might be released in time for the 10th anniversary of the movie.
That being said, Britt's heartfelt desire is for fans to one day be able to see her intended original and complete version of the film. To that end, we offer Britt our full support and encouragement that this will indeed come to pass.
In the meantime, we still have our research with still more to come with articles and interviews, including an upcoming fairly detailed exploration of the filming locations on the Isle of Man, Pennsylvania and Toronto. We can be proud of those accomplishments
CHANGES TO SiF PRODUCTIONS SITE
May 5th, 2009
At the request of the man who put the dubs together, Chris Signore's Series 8 Redubs are to be removed and replaced with a set of new ones over an unspecified period of time. Feeling that the poor production quality (by comparison with later work) has hindered them now, new versions with different storytellers will be uploaded in their place, however, it may take a while to complete the full set again.
On a happier note, at the request of Director, Producer, Writer and Creator, Simierski - The British Railway Series will soon have episodes up for download on their site, which is hosted on our webspace at sodor-island.net. We have hovered over this issue for a while, considering security risks, but I am now happy to accept the request and answer the call.
The Series 8 dubs will be removed by Monday of next week (11/05/09), and the British Railway Series episodes will be available for download at a later date.
TUGS is 20!
April 22, 2009
With 2009 marking the 2oth Anniversary of TUGS, SiF is pleased to inaugaurate this auspicious occasion by creating a special page on the Fansite. It's fitting that we're also fortunate to have contacted a former crewmwmber of the show - 2nd assistant cameraman Giles Christopher who was happy to share his memories with us.
SiF 'SELLS' FOR £2,500
April 2nd, 2009
As part of an elaborate April Fools Day prank, SiF, both Forums and Fansite, were placed on E-Bay for sale. Much to our surprise, throughout April 1st, people began to bid on the sale and as of our 'pulling' the auction today, we found the forum was selling for around £2,500...
But we can assure everyone concerned that SiF will be remaining in our hands for a while to come yet, and any handover of power will not be made to the highest bidder, but to the best man or woman for the job of succeeding Ryan to the Administrator's position.
SiF GOES TO THE HIGHEST BIDDER... BRWS MOVES TO GLASGOW!
April 1st, 2009
It was announced formally last night on SiF that the regretful decision to sell the Forum, Fansite and all collective associated effects has been made in order to fund a new project which the staff team have become involved with.
The current staff team will stand down at the end of April, after nearly six years in the position and hand over to new management. Given the timing of this situation, we feel it's the best opportunity to advance in our professional lives - with all of us investing in our own production company which Simierski hopes will see The British Railway Series develop beyond his attic.
At this point in time, we have received confirmation that our purchase of a former Warehouse facility in Glasgow, which was being auctioned last week, has gone through, and therefore will be redeveloped as a production facility encompassing studio, workshop and storage facilities.
Ciremi and I will be administrating the new company, whilst Christopher and Simierski will be the official Creative Directors, with Loey Machan becoming our Technical Advisor. All other staff have been offered positions within the company at production or management level, with Old Square Wheels taking up Educational Consultant as a Primary School Teaching Student, working through correspondance from Melbourne for the time being.
Evan, Troublesome Truck, The Old Bean, Kate669 and Clay have declined the opportunity to move here to have a hands-on role, but have become official shareholders in the company with creative influence and will continue to be pivotal in our pursuit to develop new properties to sell on a straight-to-DVD basis initially.
Sadly, our senior business partner, who is guiding us into the industry and provided considerable financial backing, has advised us that ties to anything which may incriminate us for copyright infrigement are to be severed, and that we'd be
Fools
to maintain links with SiF, and therefore in order to help with the first major payment on the Mortgage we're selling the Forum and Fansite on E-bay.
CLICK HERE TO BUY SiF

We'd rather that the sale went to someone already part of SiF, but will welcome outside bids.
Thank you to everyone for six wonderful years together,

Ryan + Business Associates in SiFrail Productions
FURTHER NOTICE TO SODOR ISLAND FORUMS APPLICANTS
March 28th, 2009
Further to the previous notices, sign-ups for the forum have officially resumed. At the moment, I am attempting to phase himself back into full duties and is currently active on the forum, whilst Ciremi and Clay have assumed the role of Acting Leaders for the time being.
I'd like to thank everyone on SiF and beyond for their support and friendship through a difficult time, and let them know I appreciate everything they're doing and have done. As I continue to say, we're lucky to have one of the best memberships in the Forum World. :)
NOTICE TO SODOR ISLAND FORUMS APPLICANTS
March 7, 2009
New account approvals will be scaled-back somewhat for the next few weeks*. If you've recently applied for membership and haven't received a confirmation yet, don't fret. Your application will be addressed as soon as possible. We're sorry for this temporary inconvenience and thank all of you for your patience and patronage. :)
*
Additional details can be found in our
SiF Blog
---
HAPPY NEW YEAR 2009!
For a few of our Fansite friends scattered around the globe, the New Year has already begun! For others, it's only a few hours away. We wish you all a Happy New Year for 2009!
We'd like to extend the same along with our thanks to all of the wonderful folks we've contacted over the past year or so whose contributions to the Fansite make it all so worthwhile! Kathryn (Dalby) Holland, Edgar Hodges, Rick Siggelkow, Britt Allcroft, and more recently - Tim Staffel along with so many others. We wish you all our very best for 2009!
Speaking of wonderful people, and I can assure you this is legit! - we have a special New Year's message to share with all worldwide fans of Shining Time Station from no one other than...
Hey fans of the best guy to be a fan of,


It's Schemer!! and I'm wishing all of you a Happy New Year.


And here's some advice: save your nickels. And how, you may ask, is the best way to save nickels? Easy! Send them to me and I will save them for you. Promise!


OK, that's it. I gotta get back to work on my Christmas list--y'know, stuff I want from Santa. Never too early to start on that list!


Love me!

Schemer.
With many thanks to Brian O'Connor for passing on Schemer's message to us. Brian, please give him a firm New Year handshake on our behalf - watch out for a hidden joy buzzer first, though ☺
We hope to hear more from Brian and Schemer in the New Year. Quite a nice way to end 2008 innit? In the meantime, start collecting those nickels! ~J
---
NEW CREWMEMBERS DEDICATION PAGE LAUNCHED
December 18, 2008
With Series 12 being the final one to be produced and filmed using model sets, we wanted to honour all of the crewmembers who have dedicated their time and talent to the show over the course of nearly a quarter-century. All too often, we take the names that we see in the credits for granted. By reading their stories documented for historical posterity, past, present and future fans will gain an even deeper appreciation of their contributions.
SiF is therefore proud the inaugurate the launching of this page with an interview from a Series 1 Pioneer of the show - Tim Staffel, whose contributions as Modelmaker and Supervisor on the show for Clearwater can be read
HERE
THE BRITISH RAILWAY SERIES COMES TO SODOR ISLAND
November 7th, 2008
Simerski's "The British Railway Series" has now received it's own offical mini-site as part of Sodor Island Productions - with indepth behind the scenes critiques and write-ups behind each of the stories, as well as information on Copley Hill, the characters and a range of other things associated with the popular YouTube series.
Discussions are also underway to making the series available for download from Sodor Island Productions - and allowing for the first time ever for some of the episodes to play out in full rather than broken up as is the constraints of working through YouTube.
DECISION MADE ON SiF NON-MEMBER EVENTS
October 12th, 2008
Following the latest Sodor Island Forums Open Event, the decision has been taken to revert back to the ideology we held before in relation to our views on these kind of events. Back in February of 2008, we announced that we would be holding these events every six months as a thank you to our numerous non-members who have made a positive contribution to the Thomas community, however, we have decided it doesn't quite seem worth it to keep holding the events with such monotonous regularity.
Reasons surrounding the decision include comparisons between the turnout and activity surrounding the three events, and how there appears to have been a decline in the turnout and numbers posting during the course of the events held since February 2008. So the decision has been taken to go back to the idea of holding an event every time we feel it merits having one - largely when forum milestones are due to be reached or when something significant which may also merit opening up to non-members.
We apologise to those who have enjoyed the Non-Member events throughout their scheduled run and thank them for their participation, but we have to preserve the quality of these things to get the most out of them for everyone concerned. However, we do look forward to holding more events in future and are sure to welcome all non-members to give them an insight into Sodor Island Forums!
SiF REVIEWS NON-MEMBER EVENTS
8th October, 2008
We're currently reviewing our Non-Members events and whether or not we will be continuing them through to 2009.

As of 6.45pm tonight (UK time) till 6.45pm Friday (UK time), Sodor Island Forums will be having an unscheduled open period to add to the research and review of whether or not we will be doing any more Open Season Events during 2009 onward.

Reason for this is mainly the Anti-SiF backlash we've had over the course of the year on YouTube, and a number of factors associated with the last Open Season Event, which has made us question whether or not it's worth continuing with them as "membership drives". We hope you will enjoy this one.
SiF MARK ANOTHER MILESTONE
September 20th, 2008
The New Sodor Island Forums proudly marked our second major milestone of 2008, as the forum officially notched up 100,000 posts on September 19th.
The original forum which lasted from 2002 to 2005, only managed to amalgamate over 50,000 posts by the time of it's falling to a Hyperboards glitch, which wiped out a number of other forums on the same server. However, we are very proud to have doubled the momentum of the original and built on from Fat Hatt's work. It's truly been a record-breaking year, and we hope to achieve another in 2009 by breaking the 1,000 member threshold.
HIT ENTERTAINMENT CRACKS DOWN ON ILLEGAL UPLOADS
September 10th, 2008
Representatives of HIT Entertainment, who own and produce the Thomas and Friends series, have signed up to Sodor Island Forums on the back of episode uploads to YouTube and DailyMotion. There was suspicion that SiF had been an alternative where episodes could be exchanged freely among members, however, this has been disproved to the investigating representatives, who have been welcomed into our community.
We would like to serve a stark and urgent reminder to all those on YouTube who constantly and determinedly post copyrighted material. HIT are monitoring you, and will continue to do so in future, as this is a serious infringement of their intellecutal copyrights, and are taking a very hard line on those making these uploads. When doing this, you are taking money out of other people's hands, and stifling cash which could and should be reinvested into the brand.
RICK SIGGELKOW'S HOMAGE TO GEORGE CARLIN
August 19th 2008
We've read Britt's touching trinute to the late George Carlin that was posted in the L.A. Times in late June. Today, we'll hear the same from Britt's Co-Producer on Shining Time Station - Rick Siggelkow. We're honored to be able to pass along Rick's memories of working with George on Shining Time Station to you. Again, with our many thanks to Rick...
August 14th 2008
A major debt of gratitude goes out to all those who took part in the SiF "Open House" event and chose to visit the forum and post in our Non-Members section throughout the time we were open. On behalf of the current membership and staff members, I'd like to extend a personal thank you to everyone for their general courtesy, good behaviour, conversation and their contribution to the event.
Next year we plan to develop the Non-Members section with a set of sub-boards primarily designed to allow greater interaction between members and non-members, and give you guys a little more something to do when you drop in - rather than the no-frills version you have had the past twice! The next "Open House" is due for February 2009, so another six month wait.
Thanks again for a smooth and comfortable week in your company, we have all thoroughly enjoyed it, and hope you have too!
FOR ONE WEEK ONLY - SiF GOES OPEN HOUSE AGAIN!
August 6th 2008
Following our successful Open House event during February to mark the millionth hit on Sodor Island Fansite, we have decided to follow it up with another Open House event to say thanks to our non-member supporters.
Be aware however, not all sections will be available to the public for viewing and sign-ups will be requried to view new media and the Extended Railway Series, however, most other sections will be unaffected. The event will officially run from the 7th to the 14th of August, when the forum will close up again, the day prior to the Week in Wales trip beginning.
And so, happy browsing and enjoy your time with us! ;)
AN INTERVIEW WITH THE AMAZING EDGAR HODGES!
July 18, 2008
If his name is familiar to you, then it's because you've seen Edgar's work in the 1979 and 1980 Thomas Annuals. We're very honoured to be given the opportunity to pay homage to Edgar with this special page dedicated to the man and his fascinating career. It was as much of a joy preparing it as talking to Edgar himself! You;ll see what we mean one you read the...
IT'S NOW OFFICIAL - THOMAS and (CGI'd) FRIENDS
9 June, 2008
HiT Entertainment makes a formal announcement about the future of Thomas and Friends.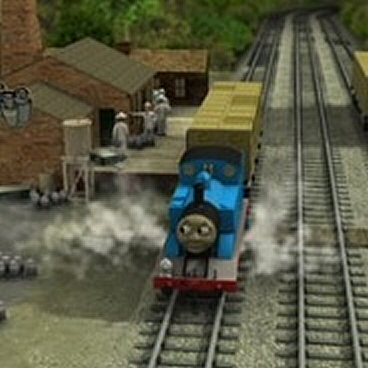 Enhanced picture from the licensing.biz article - is this a CGI'd Thomas?
Read the full details by clicking the following links
BRITT'S TRIBUTE TO DAVID...
2nd June, 2008
Britt Allcroft today emailed Ryan with a link to a very touching tribute she's written for David to share with you. It can be read here:
THE DEPARTURE OF A DEAR FRIEND...
A fond farewell to a beloved member of the Thomas and Friends crew, and the catalyst behind TUGS...
It's with a heavy heart that I deliver this harrowing news. Britt Allcroft passed an e-mail to me this morning, following hearing the news from Steve Asquith that David Mitton has passed on after suffering a sudden and fatal heart-attack last week.
I'm saddened to say the least as I've lost a hero and I've lost a good friend into the bargain. As you all know, David and I were in contact for the last eighteen months of his life, and he's shared a lot with me about life behind the scenes of Thomas and Friends. Sadly, he never got to finish all the questions I set to him, but there will be an interview compiled with what we do have and it will be placed on the fansite for reading by way of a memorial.
What you might not know is that for the first three months of 2008, we were in more regular correspondence than usual. The reason for this being that Troublesome Truck and I were seeking out the TUGS rights, which David expressed an interest in amalgamating for his company - Pineapple Squared Entertainment, with a view to putting out a DVD release, and possibly reinstating TUGS as a series. Sadly, it all fell through on April the 1st when difficulties arose and crunch time hit. Thankfully, Bob Cardona is trying to salvage as much from our work as he can, so we will see what comes of it.
Our thoughts and prayers are with David's family at this time, and we will be honouring David in our own way with tributes, both from his work on Thomas and TUGS and his contribution to life as a man who no-one had a bad word to say about. He will be sadly missed, particularly by those millions of children he touched through his work.
An obituary was been released a few hours after our own article
here
, which provides more insight into David's passing.
THOMAS AND FRIENDS GO CANADIAN AND CGI...
Another controversial move by HIT Entertainment away from traditional Thomas
Staff members at Sodor Island Forums have been aware of this change for a few weeks now, but prefered to keep it quiet for fear of causing upset. However, it has been disclosed now that Thomas and Friends are being shipped out to Canada to begin a new phase in their television development as a CGI cartoon - abandoning what has been twenty five years of quality film work.
The 2008 series will air in September / October, and will still be in model animation, however, some characters will use CGI faces with static faces used for models in the background shots. The 2009 series is likely to launch firstly with a special and then the actual series itself afterward, this will be the first of the new CGI Thomas series, following a similar trend to other HIT Entertainment shows such as Fireman Sam and Angelina Ballerina.
Naturally, on a personal level, I'm sad about the change that is about to impact upon Thomas and Friends, particularly because the series has been a unique entity in the way it has been filmed, and I condemn HIT Entertainment's decision to change the format of the series once again - especially one of this magnitude, and while the possibilities for CGI are great, the charm of the original models which engaged the interest of three decades of children will always win out in my view.
On behalf of the Sodor Island Community, I'd like to extend a thanks to Steve Asquith and his crew for sticking it out over the past five years and providing us with quality film and model work. I'd also like to extend a thanks to the crew members of the past, and those who have become our friends and correspondents - Britt Allcroft, David Mitton and Robert D Cardona for providing us with some of the best years of the series.
To read the original 2nd May, 2008 Sun article online -
click here
THE BRAND NEW STORY NARRATIONS PAGE
News of our brand new Story Narrations page, and what to expect from it!
The Story Narrations Page takes heart from the Story Narrations thread from Sodor Island Forums. The page will now house the best in SiF's storytelling from Railway Series stories to Extended Railway Series stories, and even the Awdry written Annual stories from the 80s and 90s.
Best of all, they will also house a representative sample of The Railway Stories told by Johnny Morris, Willie Rushton and Ted Robbins. Five stories from each storyteller have been selected and put up on the site for download to give a taste of what these guys could do in bringing the Awdry stories to life. These are real rarities which are unlikely to be available anywhere else aside from the scarce tapes and LPs which occasionally appear on E-Bay. As well as these, there are also rare narratives by Ringo Starr as well from the 1985 to 1987 Ladybird books with a selection of five stories from both Series 1 and 2 recordings.
Currently in our Extended Railway Series stock, only Chris The Xelent's Blandford the Somerset Engine is available for download in full, with The Old Bean providing one story too - but I think you'll agree that it's a great start and a brilliant representative for our ERS stories - both in terms of content and storytelling by two of the forum's favourite narrators. Hopefully, these will be joined with more ERS works at a later date.
And so, we urge you to make the most of our new section!
THE ROUGH AND THE SMOOTH
For one decent and well performed affair - we suffer a real hard blow
First off, I'd just like to extend a very heartfelt thanks to everyone who came to visit us during our Millionth Visitor Celebrations, where the forum was open to the public for two weeks as our way of saying "Thank You" to all the non-SiF'ers who have supported the forum and the fansite throughout it's existence. Again, I'd like to thank you all for your good behaviour throughout, and I hope that this sheds the image that SiF holds of being a nasty and vile place - a noteriety among some who have been banned from the forum for their own stupidity and misbehaviour, trying to turn it around on the Forum Staff and Members.
We will be holding another Open Week in August in a bid to attract more new members to the forum, and hope you will all enjoy visiting us again in months to come.
Every Silver Lining Has a Cloud
Sadly, the Sodor Island Members Meeting Videos will no longer have a home on YouTube. The full videos have been cut after a very inconsiderate individual seemingly campaigned to get rid of the rh281285 account there, and subsequently, got their way. The Members Meeting videos had attracted a cult following among railway enthusiasts, with one of the videos being especially noteworthy to a man who's father had died and his ashes were being carried in the locomotive running the Cambrian Coast Express.
If the individual responsible is reading this, I can only hope you're pleased with yourself. However, the videos have found a new home on Daily Motion, and will be reuploaded in full in the coming days. To view them,
click here to go to the rh281285 channel
there.
SiFansite Reaches One Million Hits
Sodor Island Fansite hits the big milestone - but the millionth visitor never came forward!
A big thanks to everyone who has helped us push forward and acheive our millionth fansite hit and take ourselves forward into the next phase of our development as a site and a community. Sadly, I had to miss it owing to the fact we're moving and currently without net access for the time being outwith University computers!
Sadly, Mr, Mrs or Miss Million Hit never registered themselves as being "the one", and so the initial plan to publish their name in their honour on the site will now be null and void. Fortunately however, as least there have been no false claims as to the identity of the Millionth Visitor!
Again, thanks to everyone, here's till next time! ;)
SiFansite To Hit One Million Mark Next Week!
Sodor Island Fansite is due to go the distance and hit new heights!
Sodor Island Fansite is projected to hit the One Million Visitors mark by next week. This is a huge testament to the hard work done by the Sodor Island Forum members and supporters to have made the site worthwhile to return to time and time again.
The Millionth visitor is asked to please get in touch via the Guestbook or through a special Comments Box placed on the front page so that we can put your name on the site's homepage to mark the occasion!
Thank you to everyone for all your hard work and support for the past three years. As a thank you to non-members, we have opened Sodor Island Forums to the public for viewing, with a special section for non-members to post in!
The Official Launch of the SiF Blog
The latest string to the SiF Bow has been launched, with the Community's official Blog!
Anyone who's anyone has a blog these days - often used to vent, share good news or generally have a one sided conversation with yourself. SiF are launching our official Blog in order to post blogs that are either interesting, news-worthy, indepth reports, whimsical, or even just purely random and fun for the sake of it.
The Blog will have a team of contributors writing for it, each providing an angle on different aspects of the SiF Community or the Thomas World in general. As mentioned in the first Blog entry written by Ryan, it will be useful to keep a record of everything that's went on throughout the year if properly maintained and everyone involved takes a turn at writing a blog entry.
So, feel free to take a look and see what's new on the brand new SiF Blog:
News Of Series 12
News of the upcoming series and what to look out for in the coming year.
In the upcoming 2008 series of Thomas and Friends, the engines on the Island of Sodor will be joined by three new friends, along with The Great Discovery's Stanley. New characters have been confirmed as Colin the Crane, Flora the Tram and Hank the American engine. No photographs of the new engines have been released from the studios as yet.
HIT Entertainment have a huge strategy planned to expand Thomas's world and keep the character and series fresh in the year of the 65th Anniversary, with ages from 0 to 12 being catered for in terms of toys, videos and a new line of books. For more information check out the article from
KidScreen
.
And if that isn't enough, we also have our special Series 12 Behind the Scenes report, courtesy of Conductor1.
News From The SiF Side Of Things
Explanation for the lack of updates in January!
We apologise for the lack of updates on the site throughout January, this has been owed to the fact there's been little worthwhile material to update the site with and, we are currently engaged deeply in a very exciting research project, which has seen truly significant progress since our hunt began back at the beginning of January. We do not wish to disclose too much about this at the present time, but an announcement will be made in good time.
We hope to have more updates on the site throughout February and onward with new media, interviews and such and so forth to make it worth the while of our visitors to visit us again.
Further News on The Great Discovery
Through the findings of Sodor Island Forum member, Aidan, it has come to light that a brand new mini-site has been set up to publicise the upcoming Thomas adventure - "The Great Discovery"
From a brand new trailer showcasing the upcoming DVD, it has been confirmed that presumed-retired characters Jack and the Pack will be making a return in The Great Discovery, and thanks to SiF member, CPK, we have an exclusive screen capture of Thomas, Percy and new arrival Stanley, who is said to be pivotal to the plot of the story.
Sodor Island Fansite - Updates Due
In the coming weeks, we plan to have the Sodor Island Links page fully updated with a whole range of updated links. So far the page has gone under maintenance and will be back in full operation when it's finished.
In addition to this, a brand new page on Days Out With Thomas events will also be published, in light of the crisises facing their future with some Heritage Railways following difficulties with HIT Entertainment, and their own personal plans to bring Thomas related events to the consumer.
As well as all this, there will be some brand new media coming over the Christmas period with brand new audios, redubs and music videos gracing Sodor Island Productions within the next few weeks!
Sodor Island Forums - Five Year Anniversary
The Sodor Island Forums will be celebrating our fifth anniversary as an online community on December the 4th 2007.
The Sodor Island Forums will be marking the fifth anniversary of the establishment of our community on 4/12/07. We would like to take this opportunity to thank everyone who have played a part in helping Sodor Island to develop to the point it has over the past five years it has spent online.
This includes members of past and present, non-members who have endorsed or supported our ventures, the many people involved with Thomas or the Railway Series that we have contacted over the past few years who have provided a deeper insight and advanced our community's profile, and the many thousands of visitors who frequent Sodor Island Fansite on a regular basis.
Without the support we have received over the course of our existence, we wouldn't have been able to survive or thrive to the point we are at this time, following what can only be described as truly being our forum's golden year.
Sodor Island Comment Box Removed
I've removed the long-standing Sodor Island Comment Box due to a recent influx of abuse spam e-mail messages being sent through there to my own personal e-mail account.
However, the Comment Box's necessity has declined somewhat since the introduction of the Sodor Island Fansite Guestbook, maintained by Troublesome Truck and Ryan, which can be used by those wishing to pass on messages regarding the Sodor Island Forum or this fansite. We apologise for the removal of the Comment Box.
New member sign ups disabled for short period
From 18/08/07 to 26/08/07, there will be no new member sign ups on Sodor Island Forums. The reason for this is the UK members meeting in Wales, (Where Admin (Ryan) and Head Moderator (Clay) will be) and Ciremi's indispostion. New members will be able to register on 26/08/07 as normal.
Pierce Brosnan To Be New Thomas Narrator
Highly acclaimed Hollywood actor and James Bond star, Pierce Brosnan has been named as the new storyteller for Thomas and Friends.
Pierce will make his debut next year in a brand new Straight-To-DVD feature length release "Thomas and Friends: The Great Discovery" where Thomas finds a lost village in the mountains, which also boasts it's own steam engine. Following this, Pierce will be the storyteller for the following three series, and two other Straight-To-DVD specials.
It is understood that Michael Angelis and Michael Brandon are standing down from their roles as the principle US/UK+AU storytellers after the upcoming Series 11, with Pierce taking the dual role for all English speaking regions. Michael Angelis stands down after 16 years in the role, taking over from Ringo Starr in 1991, who was the last storyteller to perform for all English speaking territories.
The news has had a very positive reaction from fans of the series who look forward to a change, but at the same time, are sad to see faithful narrator Michael Angelis step down from his role. Pierce recorded his first scenes last week and they are said to be amazing so far.
More information on both Pierce's appointment and the upcoming 2008 Autumn special are available on HIT Entertainment's own news pages
here
.
Sodor Island Parody Media to close
The Sodor Island Parody Media site will be closing down within the coming days, with all media on those pages being moved over to the SiF Productions site instead. Thomas The Bachman Engine, The Yard, Buggered! and The Railways of Sodor will retain their own pages, with the Morals media being placed in the SiF Productions Special Stuff.
SiF Productions relaunched yesterday with all media on those pages now available on the site's own webspace on permenant download. New media has been uploaded including Music Videos, Redubs, Audio and other items of interest, some of which has never been available for download previously. The Series 8/9 dubs are now all available for download too! :)
Some items may well be missing, but they will return within the near future fully updated.
Update on Productions Site Overhaul
Progress with the SiF Productions site overhaul has been very steady and majority of the media is now on the site's webspace, with a few more redubs still to go up, and the remaining Music Videos still to be uploaded too.
Work on the site is expected to be finished by the middle of next week, when the first publication of the overhauled site will be done.
SiF Productions Site Overhaul
The media site will be the subject of a bit of an overhaul for the next little while. A number of our projects were rendered off-air for a while after problems began occuring with Kate669's webspace which a number of productions were available on for permenant download. The productions available there are being transfered to our own webspace, along with a few others so that they will be here for as long as the fansite and Sodor Island Community itself are liable to be!
Renovations of the SiF Productions site has already seen the early media work placed in it's own page, documenting our rise and early development in fan-dubbing. Two of the redubs have been relaunched - Troublesome Trucks has received new intro/outro title sequences and been increased in file size, while Busy Going Backwards has had an increase in file size and quality.
The renovations are due to continue with some of the early music videos being placed there also to continue the shrine to the early days!
Back To Basics
Sadly, the portal idea didn't work out as we had initially hoped it would. Instead of creating easier navigation around the site, it seemed to alienate a lot of visitors, with numbers dropping in the weeks since it's implementation.
So, it's officially back to Sodor Island Fansite the way it used to be, with the Fansite at the heart of the action! ;) Look out for more interesting Magic Railroad interviews and information in the coming weeks as our Magic Railroad Mini-Site continues to expand!
Magic Railroad Revealed Begins
Following our aquisiton of the Magic Railroad script from 1999 - updates will now be made on the Magic Railroad Revealed page of our site. The first, regarding axed character PT Boomer, and showing our exclusive interview with actor Doug Lennox, who was more than happy to talk about his time on the movie.
To follow, we will have more revelations from the script, small scans of the script to justify our claim and a major breakthrough - an interview with the one and only Britt Allcroft! Correspondance with Britt has been established through her own production company, and I'd like to thank her personally for taking the time to write back:
Dear Ryan,
I have now got back to the office and this is just a quick message to let you know that I do have your e-mail and I will respond to you as soon I can- hopefully early next week.
Meanwhile, I do know your website and I can really appreciate your tremendous commitment to Thomas' world.
With all good wishes,
Britt Allcroft
Watch this space! ;)
The Railway Series is BACK!!!
It appears that after the tireless campaign by Christopher Awdry, the Railway Series will endure! The books are returning for a full print run on the 6th of August 2007. With the added bonus of the first brand new title for over ten years hitting shelves in September, along with a brand new character, a vintage coach called Victoria.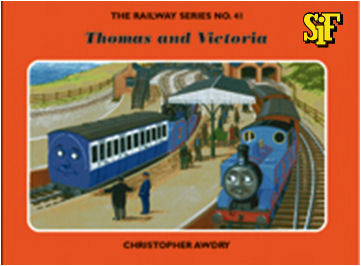 Book Description
Toby and Henrietta are overcrowded carrying the workmen from the Quarry. The Fat Controller and the Quarry Manager don't know what to do, but Thomas finds the perfect solution when he meets Victoria – a lovely, old carriage.
While Victoria is being renovated, Daisy discovers that she doesn't like snakes very much when a whole boxful of eels escape on to the platform! And once finished, Victoria, Toby and Henrietta become Sodor's Vintage Train.
The book is illustrated by Clive Spong, who has illustrated for all the previous Christopher Awdry titles, and will be published in the traditional Railway Series format.
Thomas and Victoria is due for release on the 3rd of Septmber 2007.
The Railway Series Returns?
Speculation is currently rife that the Railway Series is due to be returning to a full 40 book print run by August of this year. Contact with Egmont Books and advertising on Amazon.co.uk have revealed that the first of Christopher Awdry's 14 Railway Series books will join his father's original 26 in the current individual print run by Egmont books.
Egmont previously blamed poor sales of the Railway Series books they had in print for their hesitation in not reprinting further titles from the series. This is mainly attributed by fans to the poor design of the republished new format books from 1997 onward, which only carried a stalled print run of around 14 books, with twelve of Rev Awdry's, and only two of Christopher's. Sadly, this led to the prices of the final fourteen books (No's 27 to 40), being sold on internet sites such as E-Bay and Amazon having their prices raised to the point of extortion, often selling for over £20 to £40 in consideration of their rarity. Many, including Christopher and his many supporters, have argued that this does show there is still a demand for these books.
Despite the anxiousness of Egmont, from 2004 onward, there has been a full print run of the original 26 Rev Awdry books, which currently retail individually as well as in a boxset collection. Amazon.co.uk have also made mention of a possible new Christopher Awdry title due for publication in September 2007, although no specific date has been set for the book's publication, nor has any official title been revealed as yet.
The date for the release of the republished Christopher Awdry titles has been set by Amazon.co.uk for the official date of 6th of August 2007. Further updates will be made regarding the 41st book when more information becomes available.
Magic Railroad Page Down For Ammendments
In the past week, a Sodor Island Forum member (Troublesome Truck) has been privilleged to discover one of the biggest and most important artefacts in the Thomas Fandom. Jim has uncovered a late copy of the pre-production script to Thomas and the Magic Railroad, dated as being May 19th 1999, prior to the film's production beginning.
There is a lot of information that we have been able to gather from reading the script, and currently three members (Troublesome Truck, Ryan and Ciremi) are in receipt of hard-copies of the script material.
Hopefully by the end of March, the additions to the current material will be made with a few surprises given, and a few mysteries solved, which ought to fill in the gaps to what became the final product of Magic Railroad. What we will reveal now is:
- Two Sodor characters from Series 4 and 5 were due to appear in the film, but were cut from the final production.
However, if you can't wait till the end of the month, sign up to
Sodor Island Forums
to find out more beforehand!
SiF Productions
This week is seeing the beginning and completion of the renaming of our Media Mini-Site from Sodor Studios Media to SiF Productions Media. The reason for this being that, while Sodor Studios is still going to remain the name of the dubbing group for some members (Ryan, Christopher, Kate669, Evan, Ciremi, Chris and The Old Bean) it doesn't necessarily cover all of the other "studios" that have emerged in 2005/6, and to give them any less credit than what is due would be completely unfair - hence the name change.
SiF Productions is going to be a collective name and site for all aspects and studios of Sodor Island Forums produced media. It will not be used as a "Studio" name for one individual or group. The final changes, logos and text and such will hopefully be changed by Friday at the latest.
THOMAS - in the name of God
Just shortly before Christmas, I was contacted by a lovely lady called Robyn Miller, who like us, is a life-long fan of Thomas and his friends, as well as the Rev. Awdry's work in general.

Robyn owned a shop in South Australia called the Thomas Shop which ran from 1997 to 2002, a store selling only Thomas related products, which resulted in a five year legal battle with the rights owners with her eventual loss against the compnany at the High Court ruling. Needless to say, the legal battle took its toll on Robyn, who now suffers from bi-polar disorder on account of the stress and toll of the legal proceedings.

But Robyn hasn't allowed the whole thing to keep her down. She has set up her own website, which was the purpose of her contacting me, to highlight her support of our feelings toward the ongoing struggle between the Awdry Family and Rights Holders. She hopes that through her writings, she will be able to make a difference, and I'll be affiliating with her site to help with the promotion of both the Thomas/Awdry issues and general Mental Health awareness. All support toward Robyn's website and campaign is welcomed and appreciated.
SODOR ISLAND FORUM
Open to the Public for 24 hours
What could be seen as the daftest and most outrageous thing I've done in a long time - I've opened SiF to the public for one day only. From 00:30am UK time on the 25th of January to 00:30am 26th of January - we're open to the general public, who will be able to view, but not post. They will have to register to do so.
This is just an experiment, and everything will go back to normal at 00:30am tomorrow night.
In the meantime, it's meant to be an aid to the membership drive. A "try before you buy" type thing to let potential members see the forum in all its glory.
SODOR ISLAND FANSITE - Update Week
A long overdue update is being done this week, with the following being done:
- Sodor Island Community Mini-Site Launch
- Updating Multimedia Section with new material
- Series 10 Character Profiles
- Series 10 Summaries
- Further updates to SIF Community Mini-Site
Again, we'd like to remind certain individuals that the Series 10 summaries are NOT for reproduction on other "fansites" like our Series 6, 7 and 9 reviews were. The individual responsible for THAT has already caused enough grief to Sodor Island, and is certainly NOT welcome to take our material without asking!
18/12/06 - Our Community Mini-Site has launched with the definitive history of Sodor Island Forums, with more updates to come in the course of the week!
A FEW LITTLE THINGS
The SiF Board Sweep has been completed ahead of time, and sign-ups have been restarted. All has gone well and we're looking forward to welcoming more new people to our Forum.
A bit late, but following the closure of Sodor Island's sister forum, The New Star Tugs Pier, we have now taken them in and have opened a new TUGS section, as well as taken on Jaquin (Big Mac) on as a new moderator. Our three new boards now sport Tugs General Discussion, Tugs Fan Fiction and Life on the Ocean Wave where members can talk about maratime traction and all things nautical. Members of the old Star Tugs Pier forum are welcome to join up and continue to talk about TUGS with our own membership.
SODOR ISLAND FANSITE'S BIG UPDATE
Sodor Island Fansite has just gone through it's biggest update for a few months!
Check out the following new features:
Look out for more exciting new updates to the Sodor Island Fansite in the near future! We are looking to expand our Parody Pack with new works by Sodor Island Forum members, as well as the usual additions of media content to our Sodor Studios Mini-Site.
Also, look out for the All About The Sodor Island Community page, which will explain our history, and how Sodor Island has developed in our time on the internet. You'll be able to check out our "as yet uncompleted" Wikipedia pages; view pictures and extracts from our member meetings in the UK/Australia and see that we've become more than just a forum and fansite combo!
SiF Reopens
Everything dealt with that needs to be, Sodor Island Forums have reopened and we now have (courtesy of Co-Admin Ciremi) the first pics of the new members of The Pack - due to arrive on DVD prior to the 10th series of Thomas and Friends!
SODOR ISLAND FANSITE MEDIA ON YOUTUBE
An Important Message Regarding Our Media Content
Very recently, I've found a great deal of Sodor Island Fansite media uploaded onto the YouTube site WITHOUT the prior permission of myself, or the media makers. This mainly includes music videos and other parody media, which frankly, I'm not going to stand for being stolen.
I've currently set up an account with YouTube, and have uploaded two of our media files - namely, the Buzz Buzz and Gordon and Spencer redubs. We would like to continue to put our media up on the site by ourselves, should we wish to at all. It's blatant disrespect when someone does that, and we will report the offending peoples to the correct authorities when it happens. We have worked hard on our stuff and to see it abused in such a way is disheartening.
So in future, if you want to see it on YouTube, ask and we'll upload it to OUR account there. Don't just go nabbing them willy-nilly!
Fat Hatt Bows Out
The original SiF Admin calls it a day after three years
The founding father of the Sodor Island Community, Fat Hatt has come to the difficult decision to step down as its leader, following a year long absence from the forum amid problems within his private life which have prevented him. I officially took on the role of his Co-Admin in November shortly before the original forum collapsed due to a Hyperboards glitch, and moved the forum across to a new home at Proboards, while acting as Acting Administrator.
I will be carrying on the forum, and taking offical charge as the Official Admin. I am satisfied with the knowledge that Fat Hatt trusts the forum is in good hands, but I'll be the first to say I'm sorry to lose someone I looked to as a mentor within the realms of SiF. I can only hope things will change and he will one day return to us full time. The position's sitting waiting if fate can intervene.
Fat Hatt set up what was originally The Thomas Fan Forums, what we presume to be the first of it's kind, in December 2002. All but one founding member have left (Sillyevan), and even those from the first generation of the forum have whittled down to a grand total of six active members (myself, Ciremi, Aidan, CPK, Sillyevan and Sean).
The Sodor Island Community would like you to join us all in extending a debt of gratitude to a great leader and wish him all the best for the future!
Triple8/Caesar/Fat Hatt
December 2002 - March 2006
Sodor Studios Downloads Difficulties
As some may well be aware, recently Kate669 (who hosts our dubs) has been having problems with her host due to a credit card glitch which disabled her account. Following a rather rude e-mail I would like to make mention that the redubs are still downloadable to your computer, but NOT to view on Kate's own webspace at the minute. Really, we encourage people to download and not view on the webspace as it only eats away at precious bandwidth that hinders other users' viewing. Thank you for your attention and we hope you will look forward to our upcoming Buzz Buzz redub which will debut sometime this spring!
Sodor Island Fansite Gets A New Coat
Over the coming weekend, Sodor Island Fansite will be receiving some much needed updates. New and bolder logos will be up on the site, to give the site a fresh and exciting new look. Some of these new logos are already in effect, so if you like what you see, expect to see more of it!
The Parody Pack will also be receiving a large update over the weekend too, with new pieces by TheHalford, Alaric, FlyingScotsman and Truro. On top of that, enjoy!
SiF's Thomas Wikipedia Project
Several SiF members are attempting to give the Thomas Wikipedia pages a bit of dignity by editing the innaccuarate information put up by some members of the public. Majority of the work is being done by knowledgable people and long term fans of the TV series and books. SiF is usually one of the first places to get information about eventualities within the Thomas and Friends series, and a lot of the time, it will be posted here first for the outside world to learn about.
The folks from SiF working on Wikipedia are trying to increase the validity of the information there, so it would be helpful to them if any confirmed information was put onto the Thomas Wikipedia pages only, and not unconfirmed rumours.
Enter content here