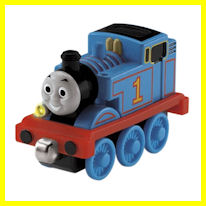 The Take Along Thomas range was initially launched in America in 2001, when the Thomas ERTL range was discontinued within this territory. These were produced under the Learning Curve / RC2 banner, which would go on to replace the Thomas ERTL range in all territories effective of 2004. The Take Along toys were of a completely different design to the Thomas ERTLs, despite the similarity of being die-cast metal also, the models are chunkier, look a lot more like 'toys' and are significantly less detailed than their predecessors.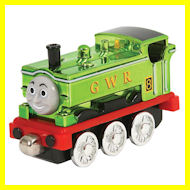 The Take-Along range followed some of the precedents set by the ERTL range, with various metallic limited editions and Railway Series characters such as D199, Culdee and others becoming part of the range. The new models have also used technology to further their appeal with children, with the new Talking Thomas & Friends, which uses the individual voice cast from both the UK and US territories saying various phrases commonly heard in the new CGI TV Series.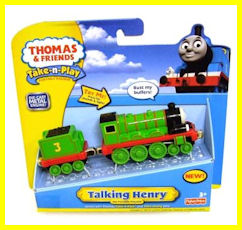 However, it has also taken advantage of the TV series further to produce special toys to promote the brand – such as tie-in toys for The Great Discovery, Hero of the Rails and most recently a Misty Island Rescue playset. Other recent cash-ins from the new CGI TV Series include 'Scenes From The TV Series' where special models are released for children to re-enact episodes.
In 2009, the range was handed over to Fisher Price who rebranded it as 'Take and Play', the models were of the same design set from 2001, and they remained compatible with the existing 'Take-Along' merchandise that had come before, and continues as one of the main toy ranges of the current Thomas & Friends brand.