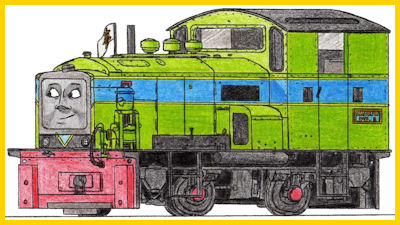 The Mid Sodor Heritage Railway Society bought this 1954-built diesel engine in the 1975 when they were planning out their demonstration line at Peel Godred. Stored under tarpaulins for several months, it was found impossible to start her in the spring due to water seeping into her battery box, leaving her unable to hold a charge. Jumpstarts from cars were required during her first few weeks until an electrician was able to sort out her electrical system, which earned her the name of 'Buzz', initially as a tease, but now proudly carried on her side in the form of nameplates.

Buzz is incredibly reliable, but her 180hp Gardner Engine has been known to be very noisy on occasion. Appropriately this matches her personality as she is very much a youthful and spirited tomboy, with an acid wit and (if riled) a fiery temper. Her heart is very much in the right place however and her sense of loyalty to her friends and her railway is extraordinary. Having met Duke in 1980 she has become extremely fond of him (after a rough start where he tried to treat her like a shrinking violet), and she is one of the few engines to think of him as 'Granpuff'.

Duke's pride in the former MSR also impacted deeply on Buzz, and she feels as the reborn line's No. 1 she has to uphold the railway's honour. As such she is incredibly knowledgeable on the history of the former company, having learnt much from the volunteers that drive her. She is also the favourite engine of occasional driver and retired MP Lady Elizabeth Carpenter, and she and Buzz have a very strong relationship.

Buzz is used most often on maintenance trains and off-peak services, though before Evan's arrival she was the sole engine operating the museum's Demonstration Line. She is also an incredible asset in extending the railway. Resourceful, intelligent and spirited, Buzz is truly the sister of the engine shed and liked by all. Just don't get her mad, or she'll probably pull your couplings off.

Buzz is based on 'Upnor Castle' a 1954-built FC Hibberd 'Planet' Class Diesel owned by the Ffestiniog Railway, and was the workhorse that kept the extension of the Welsh Highland Railway going through thick and thin.

Just like Buzz, Upnor has a powerful but noisy 180hp Gardner 6LX diesel engine, loud enough that the engine is nicknamed 'Uproar' by volunteers, and yes, sometimes Upnor does need a jumpstart.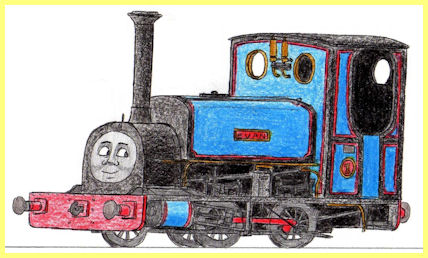 An 0-4-0ST 'Quarry' Hunslet built in 1906 for work at Vickers Shipyard in Barrow to a design quite often found in the Dinorwic Quarries of North Wales. Given the predominance of the narrow gauge railway network on nearby Sodor already existing to a 'standard' of 2ft 3in, it was decided that the industrial complex would also adopt this in order to exchange rolling stock and locomotives should there ever be a need to do so.

The engine spent a number of years in the industrial yard prior to being retired in 1961, and was 'adopted' by one of the factory owners, who over a number of years, sought to restore the engine in his workshop as a private concern. Following the gentleman's death, his son loaned and later donated him to the Skarloey Railway as a goodwill gesture in 1982 where he was named Evan after the man who saved him. However, given Evan's diminutive size and tractive effort, Mr Hugh, the Chief Mechanical Engineer felt that would not be best suited to the Skarloey Railway's needs.

Following an overhaul which saw Evan's boiler (fitted in 1956 but only used in service for five) being certified for five more years use as of 1984, The Thin Controller brokered a deal with a Lake Railway in England, placing Evan on loan to them that year to ease them through a locomotive crisis. Becoming surplus to their requirements in 1989, Evan was returned to the Skarloey Railway when his boiler-ticket expired, and was never sent back to England, even after his overhaul.

When it became abhorrently clear that he would not be fit for work on the Skarloey Railway (unless double-headed with another engine), The Thin Controller then made another deal with the Mid Sodor Heritage Railway, which needed an extra engine to operate their short line as their diesel Buzz was soon to be needed on extension work. This saw Evan placed on permanent loan to the Society in 1991.

From the day he arrived on the Island, Evan has retained his sky-blue livery with red lining, and this has continued at the Mid Sodor Heritage Railway. During the lengthy construction of the MSHR's Ballamoddey Extension, Evan was the sole engine operating trains on their half-mile Demonstration Line at Peel Godred along with a pair of ex-MSR coaches, as the society's diesel, Buzz, was needed on extension duties.

Since the opening of the extension and the acquisition of larger locomotives he is still a vital member of the team, being used on lighter trains and for Driver Experience courses, which earn a pretty penny for the MSHR. Thankfully Evan has an extremely even temperament (he is very much the peacemaker in any arguments that arise between the engines), and he has yet to loose his temper with any of these amateur drivers, no matter how cack-handed they are!
Evan was an unfortunate casualty of the early ERS organisation, and therefore, when further Skarloey Railway stories were written, he didn't feature.
When the subject of an ERS Overhaul and the reopening of the Mid Sodor Railway was proposed, the character was reintroduced in the last story of the Sixth Anniversary volume, Gala Engines, where he returned to the Skarloey Railway.

A number of the Quarry Hunslets used at Dinworic Quarries have been rescued and preserved following withdrawal from service. These engines are the mainstay motive power of the Llanberis Lake Railway and Bala Lake Railways in North Wales, and although found here predominately, their counterparts have also found homes in England, and as far afield as the United States and Canada.
The locomotive, Evan, is based on Llanberis Lake Railway's 'Thomas Bach'.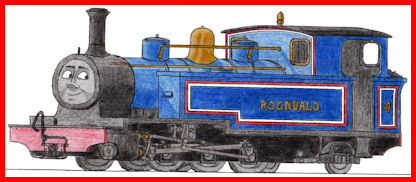 The Mid Sodor Heritage Railway always envisioned their railway needing at least two large steam locomotives to maintain a two-train service. In 2001, the society began discussions into what form a new engine should take and approached Ivo and David Hugh, the previous and current Chief Mechanical Engineers of the Skarloey Railway with a view to them designing a new locomotive capable of meeting the needs of the new Mid Sodor Railway, given the strenuous terrain on the Mountain Road section where the engine would be working.

Ivo, though interested was very much enjoying his retirement and suggested his son seek the assistance of Joanna Farrier, the young but brilliant CME of the Arlesdale Railway. He did however make a large contribution in suggesting using this opportunity to pay homage to a defunct Scottish railway which shared the same gauge as both the Mid Sodor and Skarloey Railways. The Campbeltown and Machrihanish Railway employed the largest and strongest examples of 2ft 3in gauge traction in Britain, and the veteran engineer knew that it would be ideal for coping with the Mid Sodor's distance and terrain.

What was to become the Mid Sodor Heritage Railway No.4 began construction at Crovan's Gate Works in early 2003. The work was subject to funding, and therefore stalled in 2004, at which point Sir Topham Hatt made a charitable contribution which ensured the engine's completiton ready for the opening of the Ulfstead Road extension in summer 2005, with the engine undergoing successful trials (after initial teething troubles) on the Skarloey Railway throughout the spring months, and given the honour of double-heading with the former MSR No.1, Duke on a special service for MSHR society members.

The name of the engine became the subject of fierce debate; it was turned out carrying the name Thorfinn, honouring the Scottish connections of the locomotive, but many felt this decision had been made over their heads and wished to honour those who had significant impact in the region. A ballot soon returned the name Rognvald, after one of the sons of Sigrid, a legendary Sudrian heroine. The engine was formally named at a special ceremony at King Orry's Bridge by the Canon Nigel Dreswick, grandson of noted historian Canon Nicholas Dreswick, on the opening day, May Day 2005.

Rognvald was turned out from Crovan's Gate Works in Prussian Blue livery with red and white lining, and unlike his counterparts, his name is painted on his side in the same tradition as the engines he is based upon.

The announcement of plans for a new MSHR engine initially worried former Mid Sodor No.4, (Now Skarloey Railway No.4) Peter Sam, as it was initially mooted that the new No.4 be a replica of himself, which led him into a minor identity crisis. This was soon settled when a more suitable new design was chosen.

Rognvald's trials on the Skarloey Railway ruffled many feathers, because when delivered in February 2005 he was brash and argumentative. Many though the name he carried at the time, Thorfinn, to be extremely suitable, as the historic Thorfinn was described in epic poetry as being;

"…the tallest and strongest of men, ugly, black-haired, sharp-featured, and big-nosed, and with somewhat scowling brows. He was a mighty man of strife, and greedy both of money and honour…"

He particularly got right up-the-funnel of Ivo Hugh, who felt rather put out by the new engine's strength and power, which both of whom take great pride in, and developed briefly into a rivalry between the two engines. Rognvald's tests on the Skarloey Railway were initially unsuccessful as he was rough-riding on the track and finally derailed in the yard, The issue was discovered to be caused by poor springing on his trailing axle, and after this was put straight he was passed as fit for traffic and has been running regular services on the Mid Sodor since the opening of the Ulfstead Road extension in May 2005. His humiliating experience during his trials has brought him down a peg or two and kerbed his temper, but as a young engine, he does have a lot to learn, and although being guided by the other engines, particularly Edwin Richard, Rognvald is still keen to carve his own path. He does however get along very well with Buzz, and both treat the other as equals.

Rognvald is based on the two 0-6-2 Barclay built engines of the Campbeltown and Machrihanish Railway in Scotland. Built in 1906, these locos were the largest and strongest engines ever built to the 2ft 3in gauge, and named Argyll and Atlantic. Throughout their lifetime the engines were used to carry passengers as well as local goods such as coal, subsidised by two smaller machines throughout the lifetime of the railway.

The Railway closed in 1935, and the engines were scapped two years later in Coatbridge.
'The Devil' was given his name through his striking red colour, but earned the reputation through his actions in South Africa. With a powerful and intimidating presence, he gained notoriety for running a dangerous and isolated section of line, causing untold havoc to those who crossed his path. Other engines who worked with him feared him greatly, particularly those who had seen his temper first hand...

However, Jim found the best in The Devil, and the two developed a close friendship and he became fiercely protective of the small engine whilst the two worked together in the marshalling yards. Jim learned that The Devil would play upon the fear and intimidation he induced, and use it to his advantage to play predatory mind games with those he felt 'crossed the line' and needed taking down a peg or two, such as the cocky young Rognvald. Despite being viewed as a demon, The Devil uses his ability to act as a guardian to those he wishes to protect... even if others don't realise it!

RAILWAY OF ORIGIN: Reus Valley Railway (South Africa)
LOCO TYPE: NGG16 Garratt Locomotive
RWS/ERS ENTRY VOLUME: ERS #165 – The Return Of An Old Friend
DATE OF ENTRY: 2009
WHEEL ARRANGEMENT: 2-6-2+2-6-2
ORIGINAL NUMBER: N/A
CURRENT STATUS: Static Exhibit
CURRENT LIVERY: Scarlet Red, with black and yellow lining
CREATOR: Ryan Healy

The northern section of the Reus Valley Railway ran through a barren mountainous region, sparsely populated, and thought to be haunted by evil spirits. This particular section of line went down in Reus Valley history as the most treacherous and difficult to build, with frequent problems plaguing the construction. Initially, passenger trains were run along this section to the coast, however, the isolated location and distance from nearest civilisation provided a mecca for bandits and thieves, who would often ambush trains and rob the passengers and crew. A very notable derailment, which saw an entire train held to ransom for several days, spelled the end of the passenger runs on this section of line.

From then on, the management took a very different approach to the running of its trains on this section. Freight trains only would be run, and all would be handled by one engine, based at the start of this highly dangerous section. This engine was a very powerful NGG16 Garratt locomotive, known as 'The Devil'. To all other engines, this would be the terminus of the line, known better as 'The Devi's Stomping Ground'. No-one ever seemed to see this engine – he was an enigma to the others, and famed in folklore, with stories of his conquests over the evil bandits as he ran through the night, under cover of darkness, with his loads to the coast. Over time, the name took on a life of its own and added further to the mysteries and stories about him.

Prior to his designation on this section and service, he caused a serious accident in the shunting yards of Bergstad, sending trucks flying into one another, and destroying a shed with the velocity and momentum. The Management decided this was a good enough reason to move him out of the way as punishment. Before this came to be, he received an extensive rebuild to make him the most powerful of the NGG16 Garratts, in order to increase his ability whilst running on the treacherous mountain section.

During his time working in South Africa, a young Richard Hatt was given the responsibility of running a fully loaded train to the coast along 'The Devil's Stomping Ground' along with the Chief Mechanical Engineer, Phillip Kenworth. Local bandits thought they would be able to take full advantage of the situation and hijack the train, displacing the inexperienced young Driver. However, they reckoned without The Devil himself, who thwarted their attempt by throwing sparks from his funnel and setting the dry undergrowth alight, providing a smokescreen for their safe passage, and then valiantly battering their make-shift barrier to smithereens.

But despite his notoriety, he was subject to wear and tear like any other engine. Over the years, he began to show and feel his age, and eventually, in the late 1990s, he was replaced by several Diesel locomotives who would run his section for him. However, when misfortune befell one of them, he was returned to action to run the section one last time under the instruction of his former Driver, Vincent Nucal.

By the late 1990s, when the section's viability became nil, it was scheduled for closure. The Devil was due to run the last train along the section, however, owing to a locomotive shortage, plans were changed and he was returned to Bergstad early. The final run saw one final attack by bandits, who robbed the train and decimated the Diesel locomotive hauling it. Vincent Nucal was also lost in the accident, and is still missing. The Devil was reassigned to the ailing southern section along with the other locomotives, where he performed ably until his withdrawal in 2004. The overhaul was put on hold initially, but following the great storm that severed the line and forced closure in the winter of 2004, The Devil's demise was imminent.

However, Richard Hatt felt a debt of gratitude to The Devil, and as a member of the railway's management team, he offered to relieve debts by buying two of the engines – The Devil and Jim. Both were moved to the UK for restoration in 2004, with hopes of placing them in the hands of a proposed Sodor Railway Exhibition, which failed to materialise. The Devil's restoration was therefore put on hold indefinitely again, and several years were spent in storage at Crovan's Gate.

The Sodor Railway Preservation Society's move to Vicarstown proved to be the lifeline that Richard Hatt was seeking, and he quickly offered both locomotives for permanent loan. The Devil was cosmetically restored ahead of his turn on display, and made a surprise appearance alongside Jim at the Mid Sodor Heritage Railway's grand reopening to Cas-Ny-Hawin. Work on his full mechanical restoration began in spring of 2011, with a brand new boiler being ordered from Crovan's Gate Works. Once complete, he will become the new Mid Sodor Heritage Railway No.5, filling in for Edwin Richard while he undergoes overhaul.

The NGG16 design of Garratt was first used by Cockerill of Belgium in 1937, developing a previously used design of NGG 13 first used in 1927. The locomotives were used extensively on South African Railways 2ft gauge network, with 34 being built between 1937 and 1968. Many were preserved by the Alfred County Railway in South Africa prior to it's closure in 2004, where they could be found hauling 'The Banana Express'.

Seven of these engines have found their way to the UK, with three based in England, and the other four in Wales in various states. One is currently being regauged for work in Australia on the 2ft 6in gauge Puffing Billy Railway.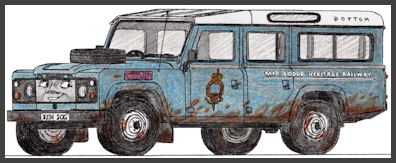 The railway also owns a 1985 Landrover Defender 127, nicknamed 'Bottom', who is used on extension work, transports volunteers, and at other times acts as the manager's 'company car'. Because of the nature of his work he frequently goes off-road into muddy environments, which makes cleaning him a pain. As such he was never given a MSHR paint-scheme and remains in the steel-grey he was built with, though he does carry a 'Mid Sodor Heritage Railway' transfer down both sides of his body, and a number of amusing and sometimes bizarre bumper stickers, such as 'My Other Car's A Garratt'.

Useful and versatile, Bottom is very much a member of the team. He loves his home, loves his work, and loves nothing more than driving through really deep and muddy puddles!